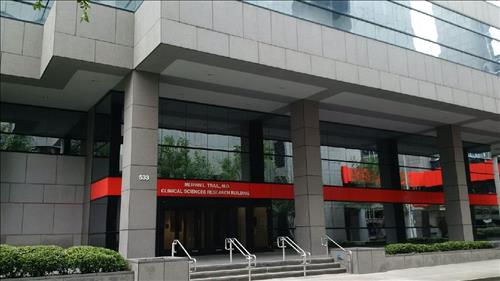 For more information:
Office of Academic Affairs
504.568.4804
CSRB FEMA Mitigation Project Update
In the spring of 2017, the FEMA mitigation project for the Medical Education Building (MEB) and Clinical Sciences Research Building (CSRB) will begin.  This project includes the construction of a vivarium on the west side of CSRB,  construction of a power generation building adjacent to the Roman Street parking garage, and new roofs on all elevated walkways.  An additional elevated walkway will also be built between MEB and CSRB for animal transport.
The new vivarium will be an eight story addition to the back side of the CSRB (west elevation).  Its construction will generate significant noise and vibration that may impact the existing CSRB functions.  The noise and vibration will be more concentrated during demolition of the concrete drive, during pile driving, and while attaching the concrete structure of the addition to the existing building.  Later in the construction there will be scheduled electrical and air conditioning outages that will impact the existing vivarium.
Current Plans
January 2017:  Pile driving

Summer 2017:  Begin construction

Construction duration: 30 months
Plans Going Forward
Continue fact-finding and creating mitigation options for animals during the expansion

Continue logistic mapping of animal relocation procedures, as needed during construction

Develop communication pipeline to keep all parties abreast of construction and research animal related development.
January 2017 Update
A pile driving test for the CSRB annex is tentatively scheduled for January 11, 2017 and will last 1-3 days. Four pilings will be installed at this time in the rear of the CSRB. The start of CSRB annex construction with full scale pile driving will begin 6-8 months later. Animal Care services will not be moved before the test piling installation, however rodents will be moved to the LCRC before full scale construction begins in mid-2017. Researchers whose experiments are sound or vibration sensitive are advised to plan accordingly in advance of testing and construction.
Please check back soon for further construction updates, and thank you for your patience!