Environmental Health and Safety
Security of High Level Radiation Sources
Revised: February 24, 2017
Purpose
This training provides information on the Security Action Plan for access to the irradiator room.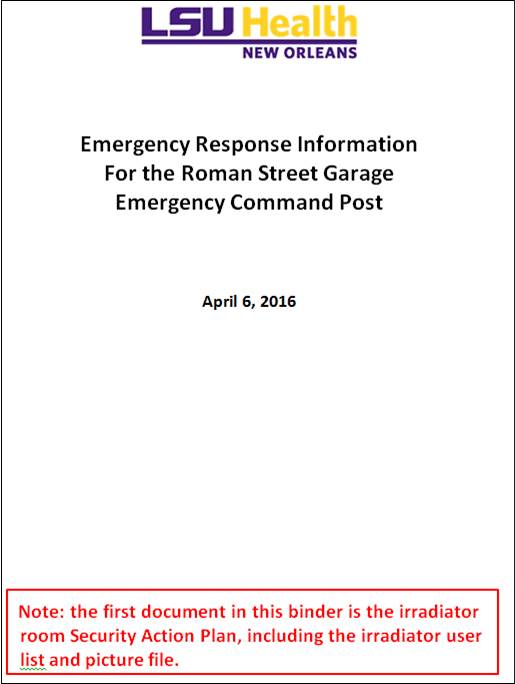 The plan, including room location information, user list, and user picture file are maintained in the Roman Street Garage Emergency Command Post (ECP) in the Emergency Response Information binder.
Introduction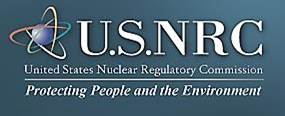 The U.S. Nuclear Regulatory Commission (NRC) has security requirements for large radioactive sources. LSUHSC has irradiator machines in the irradiator room containing these large sources.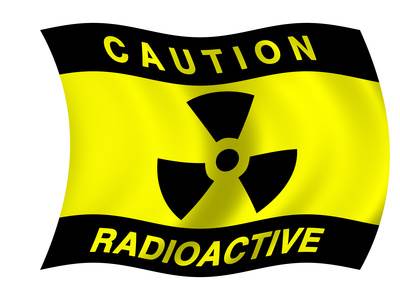 WHAT'S THE BIG DEAL?
If stolen, these radioactive sources could be used by terrorists to cause harm.
A "Dirty Bomb" is one type of a radiological dispersal device (RDD) that combines conventional explosives, such as dynamite, with radioactive material. Most RDDs would not release enough radiation to kill people or cause severe illness - the conventional explosive itself would be more harmful to individuals than the radioactive material. However, depending on the situation, an RDD explosion could create fear and panic, contaminate property, and require potentially costly cleanup.
WHAT'S YOUR RESPONSIBILITY?
University Police are designated as our Local Law Enforcement Agency (LLEA). Your responsibilities while manning the ECP in the Roman Street garage:
Provide reasonable assurance of the security of these radioactive materials by protecting from theft or diversion.
Verify all individuals who enter the Irradiator room are approved irradiator users. Approval is given by Radiation Safety Officer (RSO), James Davis and names and images are located in User list in ECP.
Respond quickly when an individual entering this room is not recognized as an approved user.
Respond quickly when an individual(s) attempts to dismantle these devices.
Know the difference between "unescorted" vs "escorted" user access.
Know who to contact immediately in the event of attempted theft of these sources.
Verification
WHO'S ALLOWED TO ENTER THE IRRADIATOR ROOM?
The RSO ensures all necessary security background verification checks as required by the NRC to determine who can enter this room. There are two types of access:
unescorted access

(by themselves) or

escorted access

(with unescorted user)
Electronic door card access is available to the following unescorted users only: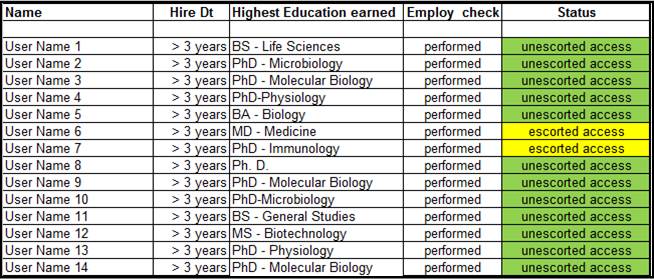 (Click or tap for expanded view.)
University Police has the above listing (with actual names) maintained in the Emergency Command Post (ECP). This list includes the exact location of irradiator room.
Also, this listing includes pictures of every user that the University Police Officer on duty in the ECP can compare to the video image of the individual seeking access to the irreadiator room. Each photograph is marked with a legend (see the diagrams below) so University Police can quickly identify those individuals with unescorted access and those individuals who require an escort.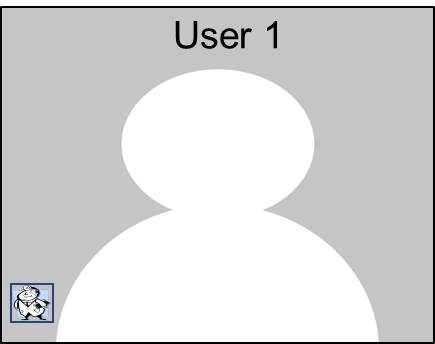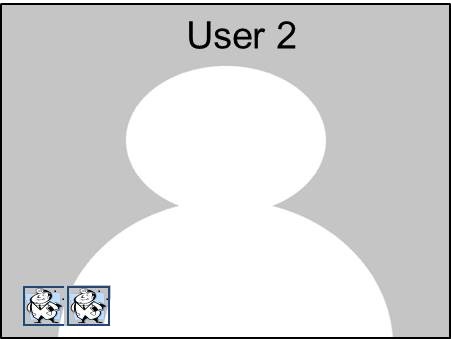 IRRADIATOR USER LEGEND

unescorted access legend

escorted access legend
Access Control
HOW UNESCORTED USERS GAIN ACCESS TO THE IRRADIATOR ROOM?
When users swipe their ID card to enter the irradiator room, an email will be sent to the RSO, Executive Director of EH&S and all University Police Officers.
Event 'Irradiator Rm Send Email When Reader is Scanned' is activated
Information Security
Sent: Tues 4/5/2016 11:35 AM
To: Davis, James; Fahey, Robert; University Police
Date: 4/5/2016
Time: 11:35 AM
Message: Irradiator Room has been accessed
The surveillance camera in the Irradiator room allows the officer on duty in the ECP to view the individual and verify that they have authorized access.
Security Steps
WHAT TO LOOK FOR?
Does the individual keep looking at camera?
If more than one person in room, are they extremely close together?
Does the individual look nervous or hyperactive?
Did the individual in room let in several more people after entering?
Do you see individuals removing the cover off any irradiator?
Did the video monitor go out all of the sudden?
WHEN IN DOUBT – CHECK IT OUT!!!
WHAT TO DO?
Normal Use Event
Make sure video monitor image of irradiator room is always on (24/7) and being monitored by the officer on duty in the ECP.
When an individual enters the room you will be notified by e-mail. Compare the individual with the pictures on the user list.
If individual is on the list, clearly identifiable and no theft or damage of equipment is noticed, no action is necessary.
If individual is not on this list, or is not easily identifiable, immediately go to the Irradiator room and knock on the door, identify yourself and ask them to come into hallway for a security check.
Verify that the individual(s) are on the user list.
If not on list, remove them from area and record all necessary. identification information and ask what there intentions are and how did they get in the secured area.
Contact James Davis, RSO, immediately and release the individual only upon his approval. If the RSO can't be contact, notify Bob Fahey, Executive Director EHS.
Possible theft or diversion event
If anyone attempts to remove or damage any piece of an irradiator, (except for a pre-authorized vendor approved by the RSO; Jim Davis will inform University Police of vendor visits) respond to the scene and take appropriate actions.
Should an unexpected event occur (e.g., Department of Environmental Quality shows up after hours and wants access), you must still gain clearance from the RSO. In the event of any official or unofficial request to gain access to the irradiator room, contact the RSO.
Notify the RSO, James Davis (or Bob Fahey if James Davis is unavailable). He will then contact the NRC's Operations Center at 301-816-5100 and the Louisiana Department of Environmental Quality's Emergency and Radiological Services Division at 225-765-0160.
Security - Equipment Testing
The RSO, per NRC direction, will conduct an annual unannounced drill to test compliance with security procedures.
Information will be recorded by the RSO on items such as:
How long did it take for security personnel to respond?
What actions were taken by security personnel once they arrived?
Comments on improvements if needed.
Summary for Officers on Duty in ECP
Ensure you know the location of the approved user list maintained in the ECP.
Maintain vigilance over the security camera view of the irradiator room in the ECP.
Check email as an auxiliary measure to monitor entry into the irradiator room.
Any unauthorized access must be reported to the RSO, James Davis, immediately. (Bob Fahey is secondary contact at 504-905-6316).
If in doubt, check it out!
If you have any questions about this training, contact the RSO, James Davis.
Blackberry: 504-314-5989
Email: jdavis3@lsuhsc.edu