Save the Date for the Camp Tiger Auction!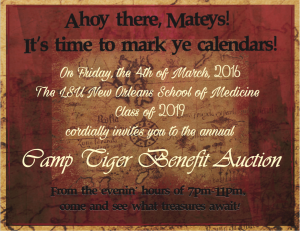 Tickets to the Camp Tiger Benefit Auction can now be purchased here!
Looking Forward to 2015
LSU School of Medicine Class of 2018 is gearing up and getting excited for Camp Tiger 2015! The dates for the auction and camp have been set:
Camp Tiger Auction: March 27, 2015
Camp Tiger: May 18-22, 2015
Additionally, SIGMA will be hosting a benefit concert in January, and there will be other fundraising opportunities to come!