Exchange 2010 Migration
Notice to users:
Over the next several weeks we will move LSUHSC-NO email to new Microsoft Exchange 2010 mailbox servers.  Your mailbox will be inaccessible while it's being moved so migration will be performed during off peak hours (10:00 pm to 5:00 am) to minimize impact.  Depending on the size of your mailbox, it may take from minutes to an hour or more to complete the move.
Outlook automatically detects the new location of your mailbox, however, if you had an active Outlook session during the move you may receive an alert stating "The Microsoft Exchange Administrator has made a change that requires you quit and restart Outlook".  This is expected and restarting Outlook will allow you to resume normal email functionality.
Microsoft Outlook users may notice a few new features and performance should be better, but basic daily email functions remain the same.  The Outlook Web App interface, from your web browser, is noticeably different in appearance and functionality.  Some of the more noticeable changes are explained in video tutorials at http://www.lsuhsc.edu/admin/it/email/owasupport.aspx  so please review to prepare for the coming changes.
Solutions:
Bounced mail or "Invalid" recipient
Some users are experiencing an issue where after migrating to exchange 2010 they are getting bounces when mailing certain recipients. These users may have an incorrect "suggested name" cached. For the recipient, start typing the name, Outlook "suggests" completion of the recipient address. Instead of accepting this suggested name, click delete and remove this suggestion. Click the "TO" or "CC" field, opening the Global Address Book. Search for and select the recipient. Send the email. Once this succeeds, then the next time the recipient is "suggested" by Outlook, it will be the correct/deliverable address.
If it becomes apparent that a large number of recipients have this problem, you can delete the entire suggested names cache by going to file -  Options – Mail – Send Messages – and click Empty Auto-Complete List. 
Mobile devices
Mobile devices will also continue to work after the move but if for some reason your device encounters issues try restarting the device.  If that fails we have documentation for configuring your device at http://www.lsuhsc.edu/admin/it/email/mobiledevices.aspx
Some Android users have reported receiving the following message. This message explains that Exchange requires a security policy to be applied to your phone. You must choose Yes to accept in order for mail on your device to continue working.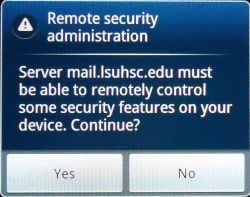 MAC
Users of Mac OS X 10.4.9 or later and Office 2008 or Entourage 2008 with SP2 and  version 12.2.1 need to upgrade to Entourage 2008 Web Services Edition 13.1.4 in order to connect to their mailbox once it is upgraded to Exchange 2010. Please download and install the following update.
http://www.macupdate.com/app/mac/6835/microsoft-entourage-2008-web-services-edition
Open Group Mailbox In OWA
If you wish to open a group (Resource or shared) mailbox using Outlook Web App (OWA), first login to your mailbox using OWA at https://mail.lsuhsc.edu   Next click your mailbox name in the top left and enter the name of the group mailbox in the "Open Other Mailbox" dialog like the screen shot below. 

Additional Help
If you encounter any issues please contact the helpdesk at 504-568-HELP (4357).