Exchange 2013 Migration
Notice to users:
Over the next several weeks we will move LSUHSC-NO email to new Microsoft Exchange 2013 mailbox servers.  Your mailbox will be inaccessible during the last portion of the move, so migration will be performed during off peak hours (10:00 pm to 5:00 am) to minimize impact.  It may take as long as 30 minutes after the move completion for Outlook to recognize the change and point itself to the new mailbox location.  Outlook Web App (OWA) connectivity is usually successful within about 15 minutes and can be a helpful workaround. Please do not make any configuration changes to your Outlook profile, and wait until connectivity is restored.
Outlook automatically detects the new location of your mailbox, however, if you had an active Outlook session during the move you may need to reboot to get it to recognize the change.  You may receive an alert stating "The Microsoft Exchange Administrator has made a change that requires you quit and restart Outlook".  This is expected and restarting Outlook will allow you to resume normal email functionality.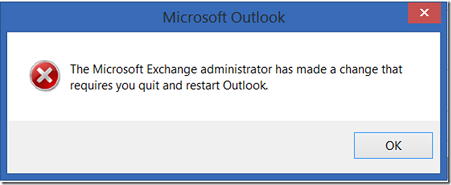 Users may also get a "Cannot open your default e-mail folders" error if they try to reconnect to their mailbox immediately after the move and Active Directory hasn't yet updated the information.  This error will go away within 30 minutes of the mailbox move completion.

Additionally, users may receive a AutoDiscover error message that resembles the following:
When this error message occurs, click the "Don't ask me about this website again" checkbox and then click Allow that will let server to make the necessary configuration changes to the Outlook profile without future prompts.
Mobile devices
Mobile devices will also continue to work after the move without any configuration changes, and are often the first client access available.  If for some reason your device encounters issues, please try restarting the device.  If that fails we have documentation for configuring your device at
http://www.lsuhsc.edu/admin/it/email/mobiledevices.aspx
Some Android users have reported receiving the following message. This message explains that Exchange requires a security policy to be applied to your phone. You must choose Yes to accept in order for mail on your device to continue working.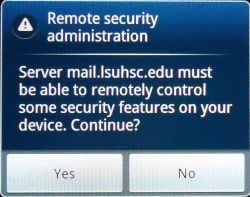 MAC
Users of Mac OS X 10.4.9 or later and Office 2008 or Entourage 2008 with SP2 and  version 12.2.8 need to upgrade to Entourage 2008 Web Services Edition 13.1.4 in order to connect to their mailbox once it is upgraded to Exchange 2013. Please download and install the following update.
http://www.macupdate.com/app/mac/6835/microsoft-entourage-2008-web-services-edition
Open Group Mailbox In OWA
If you wish to open a group (Resource or shared) mailbox using Outlook Web App (OWA), first login to your mailbox using OWA at https://mail.lsuhsc.edu   Next click your mailbox name in the top left and click "Open Other Mailbox." You will then be prompted to enter a mailbox name. Enter the name of the group mailbox in the prompt previously mentioned.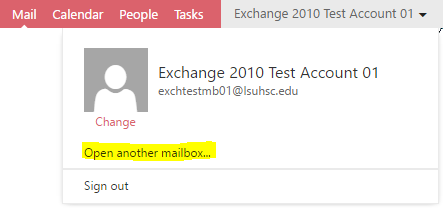 After the move:
Microsoft Outlook has a few new features available, and performance should be better, but basic daily email functions remain the same.  The Outlook Web App interface, from your web browser, is noticeably different in appearance and functionality.  Some changes are described at http://www.lsuhsc.edu/admin/it/email/owasupport.aspx  so please review.
NearPoint Archiving:
The archive solution works fine within Outlook, but is not supported within OWA.
Users can still use the web interface at the link below to browse or search for archived items:

We have added this link to the OWA logon page for your convenience

But if a user wants to open an email from the web version of the archive interface to forward or reply, it will fail with the error message "Could not complete the request. Please try later."  To forward or reply, open the archive using the full Outlook client, or they can copy and paste the content from the web interface into a new message.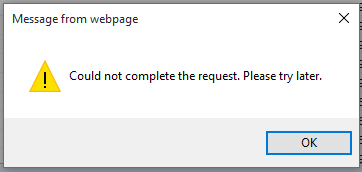 Message Retention for 180 Days:
Exchange 2010 purges old items older than 180 days, but allows you to apply by Outlook item type.
We are currently only purging items of Message type, and not Calendar, Notes, or any other types (you may see other types at the bottom of your Inbox folder).
Exchange 2013 policies are applied by folder, but do not distinguish between the different types – so all item types past that age will be purged. Contacts are not purged at all, and we will be applying exceptions to the following built-in folders: Calendar, Notes, Journal, Drafts.
Other folders created by users will not be exempt, even if they hold Calendar items, Notes, etc. All purged items should still be available through the NearPoint archive
Notable New Features:
Exchange 2013 includes a few built-in Apps that may be noticeable to users, including Bing Maps, Actions Items, and Calendar Suggestions.
These appear as drop-down buttons in a ribbon across the top of the message.
Bing Maps will appear if the contents of the message include a physical address (often included in peoples' signatures).

Clicking on the button will pull up a map of that address within the Outlook message that they can interact with.
They can also click links within the map to get directions, or view the map in a browser window.

Action Items will appear if Outlook's Actions Items recognizes items that need to be acted upon such as "Please send me the files…".  
Calendar Suggestions occur if it recognizes anything that could be a meeting or appointment, and offers to create a calendar item for you for that time.
Additional Help
If you encounter any issues please contact the helpdesk at 504-568-HELP (4357).