IMPORTANT:  Microsoft Teams will replace Skype for Business on August 5th.
Learn more about this change here.
Create a Skype for Business Meeting
To create a new Skype for Business Meeting first sign-in. https:firstlync.aspx
Start or restart Outlook if this is the first time using Skype for Business. Open your Calendar. Click New Skype Meeting.

Just as you would for any other meeting enter recipients, time, date, and location. You can type in meeting details above the dotted line. 
By default all Skype for Business meetings are open to anyone who knows the location (URL) of the meeting. If your meeting has sensitive material and you want to restrict who is allowed to enter the meeting you need to set up additional meeting options as follows:
Click Meeting Options.
Choose who may enter the meeting by setting the "These people don't have to wait in the Lobby" drop down.  Options include

Anyone
People I invite from my company
Anyone from my organization
Only me, the meeting organizer

You can also set in advance who is a Presenter. This controls who is allowed to "show" content in the meeting.  Options include:

Anyone from my organization
People I choose
Only me, the meeting organizer
Anyone (no restrictions

Lastly you can select meeting options such as

Disable IM to prevent audience "chatting" during the meeting
Muteall attendees to prevent attendee noise during a presentation
Block Attendees' video to stop attendees' cameras.

Click OK.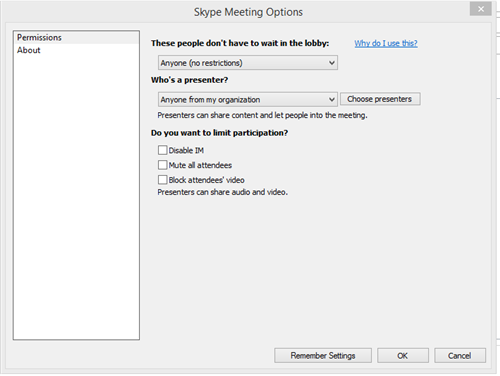 After all details of the meeting have been filled in click Send to deliver this meeting invite to the recipients. All other Outlook meeting management procedures are the same such as making a change to the time of the meeting, changing the text and sending an update, etc. The only difference is that a Skype for Business meeting has the "Join Skype Meeting" clickable URL. Your meeting invitees should click on this link when they are ready to join the meeting. 
The recipients of a Skype for Business Meeting are not required to have Skype installed. They can join the Skype meeting from a browser provided they can download and install a small browser add-inn. It is also possible to invite persons to a Skype meeting that are outside your organization. Those attendees will join "anonymously" and it is not required that they have a LSUHSC username and password to join your Skype meeting.