2019 Team Up™ Poster Presentations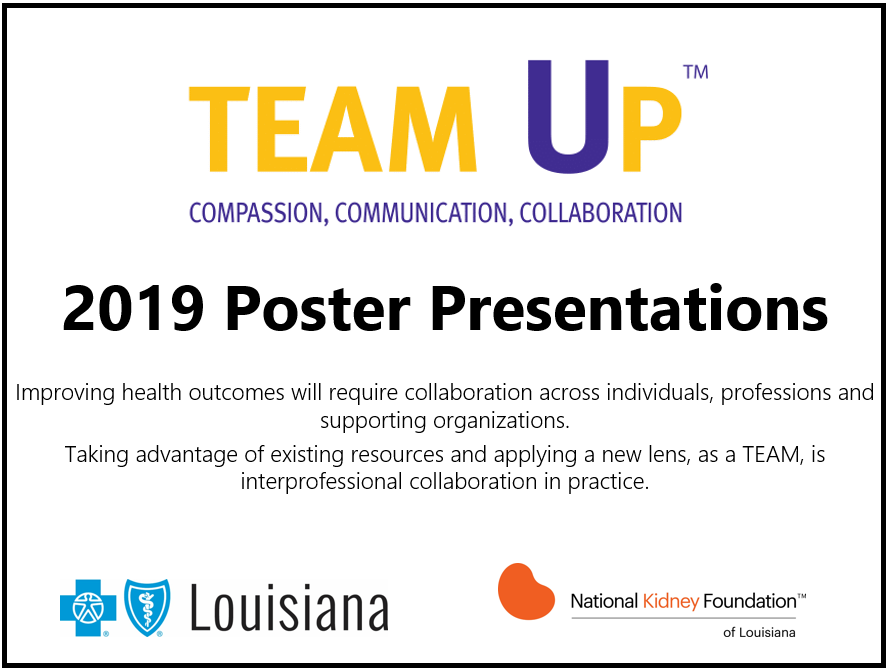 Click above image to view students' presentations!
The Team Up™ Poster Presentation session was the culminating experience for Year 2. Student teams were given an age group or a medical condition and asked to develop an interprofessional primary or secondary prevention assessment tool that could be conducted in 45 minutes. Students were also asked to provide some information on costs and reflect upon the importance of teamwork when developing comprehensive assessments.
---
2019 Team Award Recipients:
Blue Cross Blue Shield of Louisiana
1st Place: 70-79 years of age (Team 7) and Transgender Transitioning (Team 61)
2nd Place: Heart Attack (Team 26) and 18-21 years of age (Team 43)
Honorable Mention Traumatic Brain Injury (Team 17) and Opioid Use Disorder (Team 52)
National Kidney Foundation Louisiana Chapter
Honorable Mention: Chronic Kidney Disease (Team 22) and 60-69 years of age (Team 48)
Team Up™ Student Choice Award
18-21 years of age (Team 29) and Juvenille Diabetes Type I (Team 54)