Office of Compliance Programs
Revised: January 22, 2018
HIPAA Privacy
HIPAA Privacy Workforce Training
The Health Insurance Portability & Accountability Act (HIPAA) requires that the University train all workforce members (faculty, staff, residents, students, volunteers and contractors) about the University's HIPAA policies and those specific HIPAA required procedures that may affect the work you do for the University.
Overview
This presentation provides a summary of the HIPAA Privacy Rule.
It defines basic terms and lists basic principles that all LSUHSC-NO faculty, staff, residents and students, who deal with patient information on a regular basis, must understand and follow.
Important HIPAA Privacy Terms
Privacy

: is the right of an individual to be informed of and provide input on uses and disclosures of his/her individual personal or health information.

Use

: means the sharing, utilization, or examination of Protected Health Information (PHI) within or by employees or students of LSUHSC-NO.

Disclosure

: means the release, transfer, or provision of access to PHI outside LSUHSC-NO.

Authorization

: the mechanism for obtaining permission from a patient for the use and disclosure of their personal health information to an outside agency that does not qualify under one of the exceptions in the regulations.

Minimum Necessary

: limits the use, disclosures, and the requests for PHI to the minimum necessary to accomplish the specific purpose of the task at hand.

Breach

: is the unauthorized access, use, or disclosure of PHI that compromises the security or privacy of that information.
This Training Program will Help YOU Understand…
Who

.......has to follow the HIPAA law?

How

.......does HIPAA affect you and your job?

Where

….can you get help with HIPAA?
BEFORE

HIPAA
In 1972, Democratic presidential nominee, George McGovern selected Senator Thomas Eagleton, (D-MO) as his vice-presidential running mate. Shortly thereafter, despite a long established principle of doctor-patient confidentiality, information about Senator Eagleton's treatment for depression, including electro-convulsive therapy, was released to the press.
As a result of the outcry about someone who had undergone psychiatric therapy being "a heartbeat away from having his finger on the (nuclear) button", Eagleton withdrew from the race.
No one was ever prosecuted for releasing Senator Eagleton's medical information without his consent.
What Does HIPAA Do?
HIPAA is the

H

ealth

I

nsurance

P

ortability and

A

ccountability

A

ct, a federal law that…

protects the privacy and confidentiality of a patient's personal and health information.
provides for electronic and physical security of personal and health information.
simplifies billing and other transactions.
The Purpose of HIPAA?
To protect and enhance the rights of consumers by providing them with:
access to their health information.
control of the inappropriate use of that information.
The Rule's goal is to maintain the trust in the health care system and improve the quality, efficiency and effectiveness of health care delivery.
Promotes the balance of:
the use of an individual's health care information to advance economically prudent health care while protecting the privacy of the individual seeking medical care and treatment.
The HIPAA Privacy Rule in a nutshell
A covered entity (e.g. LSUHSC-NO and its faculty, staff and students) may not use or disclose protected health information (PHI)about a patient without that patient's written authorization unless the use or disclosure falls under one of the exceptions.
An Overview of the Law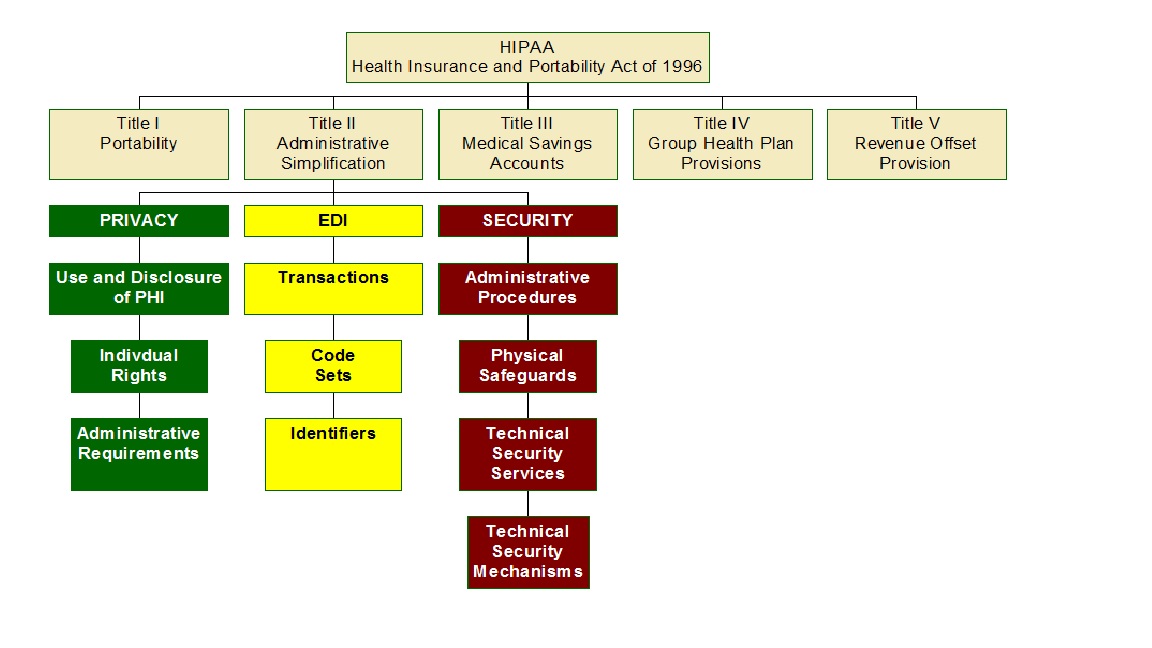 Click on image for expanded view.
HIPAA is the FLOOR
The HIPAA Privacy regulations set the

minimum standards

for protecting the privacy of the Protected Health Information (PHI) of patients, and do not supersede any state, local rules or regulations, or standards that are more stringent.
It is important to familiarize yourself with any state and/or local laws and regulations that may be more stringent than HIPAA.
Training Methods Offered at LSUHSC-NO
Online Training (KDS)
Presentation/Classroom training
Informational packets (Self-Study) for users who do not have network accounts
Reciprocal training is HIPAA training received from another entity that is similar enough in content to LSUHSC training to receive credit
HIPAA Provides for the Following:
Implementation of administrative, technical, and physical safeguards to ensure privacy of patient Protected Health Information (PHI).
Policies and procedures for the protection of health information and individual patient rights.
Mandatory faculty, staff, resident and student education on privacy policies and practices.
Complaint process that accepts, records, and investigates patient complaints about the entity's privacy practices.
Designation of a Privacy Official.
Who is Impacted?
The organizations covered by HIPAA are defined as "covered entities."
A "covered entity" can be any of the following:
Health care providers who bill electronically
Health plans
Health care clearinghouses
LSUHSC-NO, as a health care provider, is a "covered entity" under HIPAA.
This means that the university must abide by the requirements of the HIPAA Privacy Rule.
Who Has to Follow the HIPAA Law?
All faculty, staff and students must comply with HIPAA.
What is Protected Health Information (PHI)?
PHI consists of two parts:
Information that personally identifies the the patient (an identifier)
Any information, including genetic information, whether oral or recorded in any form or medium, that:

Is created or received by a health care provider, health plan, public health authority, employer, life insurer, school or university, or health care clearinghouse; and
Relates to the past, present, or future physical or mental health or condition of an individual; the provision of health care to an individual; or the past, present, or future payment for the provision of health care to an individual.
Examples of Patient Identifiers
Patient name or any part of the name (first, last, initials, etc.)
All elements of Dates (e.g. Date of birth, Date of admission, Date of discharge, Date of appointment, Date of encounter, etc.)
Social Security number
Driver's license number
Phone and fax numbers
Mailing address
Email address
Hospital account number
Medical record number
Insurance identification number
Medicare/Medicaid ID numbers
Certificate/License numbers
Device identifiers and serial numbers
Vehicle identifiers and serial numbers
Pictures that identify a patient as a patient
Biometric identifiers, etc.
Any information which combined with other readily available information would identify the individual. (e.g. parent's name)
Examples of What PHI is NOT…
Company proprietary information:

Business plans and strategy
Pricing strategies
Operating costs

Health Information kept by an Employer:

Medical Information
Workman's compensation records
OSHA required records

Information regarding a person who has been deceased for more than 50 years.
Student health records
Use and Disclosure of PHI
LSUHSC-NO faculty, staff and students may not use or disclose PHI without a patient's written authorization unless the use or disclosure qualifies for one of the exceptions in the HIPAA regulations.
Common Disclosures of PHI Allowed WITHOUT a HIPAA Authorization Form
for

T

reatment,

P

ayment, and

O

perations (TPO).

for Other Activities, including but not limited to:

Teaching
Medical Staff activities
Business and Management Operations
Disclosures required by Law
Public Health and other Governmental reporting

Click here to view the list of Common PHI Disclosures made without a written authorization.
Treatment, Payment, and Health Care Operations (TPO) Defined
Treatment

: includes various activities related to patient care. Some examples include:

A primary care provider may send a copy of an individual's medical record to a specialist who needs the information to treat the patient.
A hospital may send a patient's health care instructions to a nursing home to which the patient is transferred.
Two health care providers discussing a patient's condition to develop a treatment plan.




Payment

: includes activities related to obtaining payment for health care. Some examples include:

A physician may send an individual's health plan coverage information to a laboratory who needs the information to bill for services.
A hospital emergency department may give a patient's payment information to an ambulance provider to bill for its treatment.




Health Care Operations

: generally means the business operations of health care providers. Some Examples include:

Contacting of health care providers or patients with information about treatment alternatives.
Case management and care coordination.
Clinical education.
Activities relating to improving public health or reducing health care cost.
Conducting quality assessment improvement activities including outcomes evaluations and development of clinical guidelines.
Protocol development.
Conducting or arranging for medial review, legal, and auditing services, including fraud and abuse detection and compliance programs.




Click here to view LSUHSC-NO's Policy on Treatment, Payment, Healthcare Operations.

Use and Disclosure Exception:
De-identification
Use and Disclosure restrictions do NOT apply to De-identified information.

De-identified health information neither identifies nor provides a reasonable basis to identify an individual.

What is a HIPAA Authorization Form?
A HIPAA Authorization form, is a form, signed by the patient, which is required for disclosures of PHI to entities outside LSUHSC-NO.

A HIPAA Authorization form is REQUIRED when a patient requests a copy of his or her PHI to be disclosed to a third party except in certain limited circumstances.

Examples of when a HIPAA Authorization is Required include, but are not limited to:
When a patient requests a copy of his or her PHI to be disclosed to an outside entity.
Release of records to an attorney.
Release of records to a family member when the patient is over 18.
Release of patient information to a research study sponsor.
When in doubt, get an authorization. It is better to obtain a HIPAA authorization and not need it than to need the authorization and not have it.

Invalid Authorizations
An authorization is considered invalid if the document has any of the following defects:
Expiration date has passed or the expiration event is known to have occurred.
The authorization is missing one or more core elements of a valid authorization.
The authorization is known to have been revoked.
The authorization violates a privacy rule standard on conditioning of compound authorizations.
Any information recorded on the authorization is known to be false.
HIPAA Privacy regulations require very specific language be included in authorization documents. For that reason, only the HIPAA authorization forms available on the LSUHSC-NO's policy web pages or the authorization forms approved by the health care facility where you are working may be used to obtain a patient's authorization to use or disclose their PHI.
Use of any other form will result in an Invalid Authorization and a Breach of PHI.

Who Has Access to PHI? The "Need to Know" Principles
PHI should be shared with as few individuals as needed to ensure patient care and then only to the extent demanded by the individual's role.
The "Need to Know" Principles
Is the information needed for you to do your job?
How much do you need to know?
How much do other people need to know?
The key is to balance the privacy of health information against the need for the information.

How Does "Need to Know" Translate into HIPAA?
HIPAA requires use of the Minimum Necessary concept:
Use only the minimum necessary amount of information needed to perform your job.
Disclose only the minimum necessary amount of information needed to fulfill a request.
TREATMENT is an EXCEPTION!
Never provide more information than what is needed!!
Minimum Necessary Rule (Exceptions)
The Minimum Necessary requirement does NOT apply in the following instances:
Disclosures to or requests by a health care entity for the purpose of treating the patient.

Uses or disclosures made to the individual who is the subject of the PHI.

Uses or disclosures made pursuant to a valid HIPAA authorization initiated by the individual.

Uses or disclosures that are required by law. (However, disclosures are limited by the law's requirements.)

Uses or disclosures required for compliance under HIPAA, including compliance with the implementation specifications for conducting standard data transactions.

HIPAA Requires the University To:
Provide a copy of LSUHSC-NO's Notice of Privacy Practices (NPP) Brochure when a patient First Visits an LSUHSC-NO clinic that describes:
How the university can use and share his or her protected health information (PHI).
A patient's privacy rights.
Ask the patient to sign a written acknowledgment that he/she received the Notice of Privacy Practices.
Post the NPP at the location (ex. in the patient waiting room) and on the location's website. (Contact the Office of Compliance Programs for NPP posters.)
Click here to view the related Privacy Policy.

Patient's
Rights
HIPAA Provides for specific Patient Rights, which include:

Right

to Inspect and Copy their PHI;

Right

to receive an electronic copy of their PHI if the PHI is already in an electronic format;

Right

to request an Amendment to their PHI;

Right

to receive Confidential Communications at an Alternative address or phone;

Right

to request Restrictions on certain uses and disclosures;

Right

to request an Accounting of Disclosures of their PHI;

Right

to opt-out of a Facility Directory;

Right

to make a complaint about a suspected privacy breach.

Right to Access

Patients have the Right to Access and Copy their PHI.

Patients have the right to receive their PHI in the format of their choice. (e.g. photocopy or digital).

Right to Request Amendment and Restrict Disclosure
If a patient requests an Amendment or Restriction of the PHI contained in their medical record, the health care provider must reference the corresponding HIPAA Privacy Policy contained in CM-53 AND contact the LSUHSC-NO Privacy Officer.
LSUHSC-NO must agree to the request of an individual to restrict disclosure of PHI about the individual to a health plan if:
The disclosure is for the purpose of carrying out payment or health care operations and is not otherwise required by law, and,
The PHI pertains solely to a health care item or service for which the individual or person other than the health plan on behalf of the individual has paid LSUHSC-NO in full.
Right to an Accounting of Disclosures
A patient has the right to receive an accounting of certain types of disclosures of Protected Health Information made by LSUHSC-NO for up to six (6) years prior to the date on which the accounting is requested. This includes any disclosures for reasons other than treatment, payment or operations.
Where Can I find The Privacy Policies and Procedures?
At LSHSC-NO, the HIPAA Privacy Policies and Procedures are contained in Chancellor's Memorandum 53 available at: http://www.lsuhsc.edu/administration/cm/cm-53/

How Does HIPAA Privacy Affect Providers?
LSUHSC-NO has a commitment to protect the privacy of the patient's health information, in both medical and billing records.
The privacy policies and procedures affect the tasks a provider performs, including aspects of physical security of PHI and the minimum necessary standard.
Protecting a Patient's PHI is
YOUR

Responsibility

PHI can be compromised in many different ways. It is your responsibility to protect PHI in all situations so that you do not expose a patient's PHI.

A patient's PHI can be breached in any of the following ways. (This is not an inclusive list, but rather examples of various risks to PHI.)
PHI from discarded paper documents, computer hard drives, flash drives, backup tapes and optical disks.
PHI included in emails sent to the wrong recipient or PHI inappropriately attached to an email.
PHI stolen and sold for monetary gain.
PHI obtained and disclosed by hackers.
PHI contained in lost or stolen paper documents, laptops, flash drives, backup tapes or optical disks.
PHI that is disclosed due to the actions of a computer virus.
PHI inappropriately posted or to which access is provided on a web server, etc.
Role of the Privacy Officer
Responds to HIPAA privacy complaints
Implements privacy policies and procedures
Conducts educational programs
Reviews LSUHSC-NO's privacy program
Investigates violations of LSUHSC-NO's privacy policies
Is available to answer any privacy questions or concerns
Privacy Complaints
If anyone suspects or knows of mishandling or misuse of patient PHI, a complaint can be made to the:
LSUHSC-NO Privacy Officer
Office of Compliance Programs
Office of Civil Rights of Department Health and Human Services
appropriate Privacy or Compliance official at the institution if other than LSUHSC-NO
How to Report a HIPAA Violation
Contact the LSUHSC-NO Privacy Officer or the Office of Compliance Programs via:
Telephone at:

Office: (504) 568-5135
Confidential reporting Hotline: (504) 568-2347

Contact the Privacy Officer or the Compliance department at the hospital/facility where you work.
Penalties for HIPAA Violations
There is a tiered system for assessing the level and penalty of each violation:
Tier A- violations that are accidental not intentional-fines of $100 per violation up to $25,000 for violations of an identical type per calendar year.

Tier B- violations due to reasonable cause and not willful neglect- fines of $1000 per violation up to $50,000 for violations of an identical type per calendar year.

Tier C- violations that the hospital corrected, but were due to willful neglect of the policies/procedures-fines $10,000 per violation up to $250,000 for violations of an identical type per calendar year.

Tier D- violations due to willful neglect that the hospital did not correct-fines $50,000 per violation up to $1.5 million for violations of an identical type per calendar year.

Additional Penalties
Loss of your job or student status.
Individuals and health care providers (hospitals, etc.) can also face civil and criminal prosecution, depending on the facts of the case.
As a Recap…
HIPAA provides for the rights of patients in relation to their protected health information. It also provides for the privacy and security of that information.
It is everyone's responsibility to protect PHI in all formats.
Violations of any of the HIPAA regulations may result in fines from the federal government. regulations can also include civil and even criminal penalties.
Report breaches of PHI to Compliance immediately.
If you are found to be deliberately accessing PHI for reasons other than related to performing your job, you can face disciplinary action, up to and including termination and/or expulsion.
Be familiar with the HIPAA Privacy policies wherever you work as they differ from institution to institution.
Getting Help
Office of Compliance Programs
433 Bolivar St.
Suite 807
New Orleans, LA. 70112
504-568-5135
nocompliance@lsuhsc.edu