AAALAC Accreditation Site Visitors Recommend Continued Full Accreditation for LSU Health New Orleans
April 14, 2023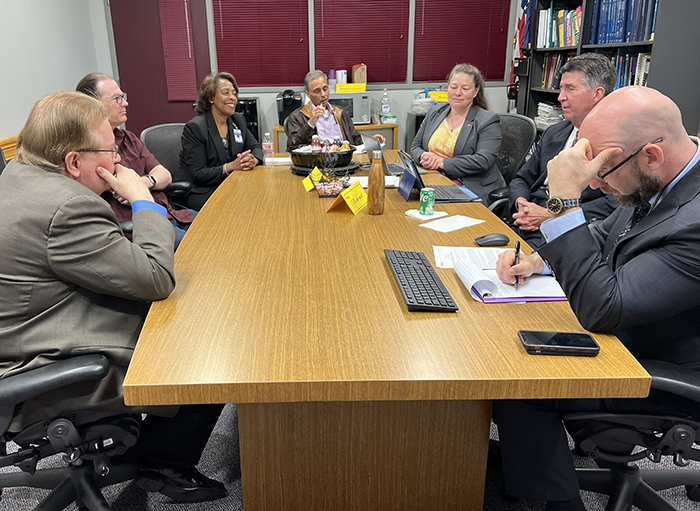 During the exit interview at the conclusion of a site visit by Association for Assessment and Accreditation of Laboratory Animal Care (AAALAC) evaluators, the team shared multiple commendations and their initial recommendation for continued full accreditation of LSU Health New Orleans' Division of Animal Care.
AAALAC International, a private, nonprofit organization, promotes ethical and humane animal research when there are no non-animal alternatives to advance medicine and science. In addition to complying with all applicable regulations governing the use of animals in research, organizations can voluntarily seek AAALAC accreditation. After a comprehensive, multi-step process, AAALAC awards accreditation to organizations that meet or exceed their standards.
The evaluators spent three days conducting an extensive on-site assessment of the Animal Care Division, including inspecting facilities and reviewing policies, procedures.
Among the commendations LSU Health New Orleans Animal Care leaders received were for their dedication and commitment, a clean facility, good signage and well-cared-for animals.
"The successful site visit is a testament to the leadership of Director Leslie Birke, D.V.M., MPH, DACLAM, and Associate Director Adam Caro, D.V.M. DACLAM, CPIA, and the excellence of their team," notes LSU Health New Orleans Interim Chancellor Dr. Steve Nelson.
According to the National Institutes of Health, the development of medicinals such as the sulfonamides, open-heart surgery and life-support systems for premature infants, our increased understanding of memory-related diseases like Alzheimer's, the ability to localize brain tumors, diagnose multiple sclerosis, and study learning disabilities in children, and the applications of such essential tools for diagnosis and therapy as computed axial tomographic (CAT) scans and magnetic resonance imaging (MRI) are among the many contributions to human health of animal research. "Research aimed at human illnesses has also had immeasurable benefits for animals. A host of immunizations and antibiotics have proven applicable to the therapy of animal diseases. Kidney transplantation, cardiovascular treatments, chemotherapeutics, and narcotics are widely applicable, as are the insights gained from genetic research. Another example of the benefits of biomedical research for animals can be found in the propagation of endangered species."
The Council on Accreditation will review the site visitors' report and then act. Once the Board of Directors approves the Council's action, accreditation is officially awarded. Accreditation is re-evaluated every three years.
LSU Health New Orleans has been AAALAC-accredited since 1968.