Dentures in a Day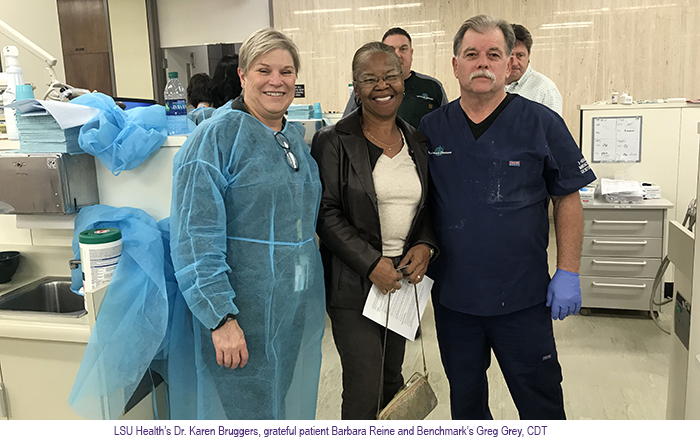 Fifteen patients left LSU Health New Orleans School of Dentistry Saturday with new smiles. Through a course during which dentists learned how to make and fit the "Immediate Denture," these economically disadvantaged patients referred through the Daughters of Charity Health System received their dentures in just one day. They also helped a group of dentists who work primarily in community health centers learn the technique, which will make the treatment option available to others.
The eight-hour, hands-on course, hosted by the Prosthodontics Department at LSU Health New Orleans' dental school, was taught in conjunction with the National Network for Oral Health Access 2018 Annual Conference taking place in New Orleans this week. Dentists from around the country, including LSU Health's Drs. Linda Harhad, Sherrod Quin and Suezan McCormick, took the course.
According to Benchmark Dentures, the Immediate Denture was designed to offer practitioners and patients another option for treatment. This denture evolved out of years of research and clinical experience to become an easy-to-use system that will give patients lasting service. It is constructed of a thermoplastic acrylic denture base and strong, two-layer denture teeth. It is easy to customize to a model of the patient's arch or arches. These are ideal as immediate dentures or as implant-supported dentures or mini dental implants.
The American College of Prosthodontists (the dental specialty focused on the restoration and replacement of missing or damaged teeth) estimates that 120 million Americans are missing at least one tooth, and 36 million are missing all teeth in one or both jaws. Missing some of all of the teeth has a host of negative consequences. Besides bone loss, tooth loss causes difficulty in chewing and speaking, sagging of the lower face, as well as self-consciousness and emotional distress. Tooth loss can affect overall health, social well-being and job prospects.
"The patients were thrilled," says Karen Bruggers, DDS, MS, Head of the Department of Prosthodontics at LSU Health New Orleans School of Dentistry, "and the professional participants found the course quite valuable. This technique can be of service to lower income patients and can be taught as an emergency denture. Our faculty would also like to include the treatment in our Louisiana Dental Mission of Mercy clinical outreach."
The Louisiana Dental Association and the Louisiana State Board of Dentistry were also instrumental in making this learning opportunity possible.
"We'd like to express our thanks to the National Network for Oral Health Access for seeking out LSU Health New Orleans School of Dentistry as a partner," Bruggers adds.