Discovery of New Predatory Dinosaur Species Gives New Insight on Their Evolution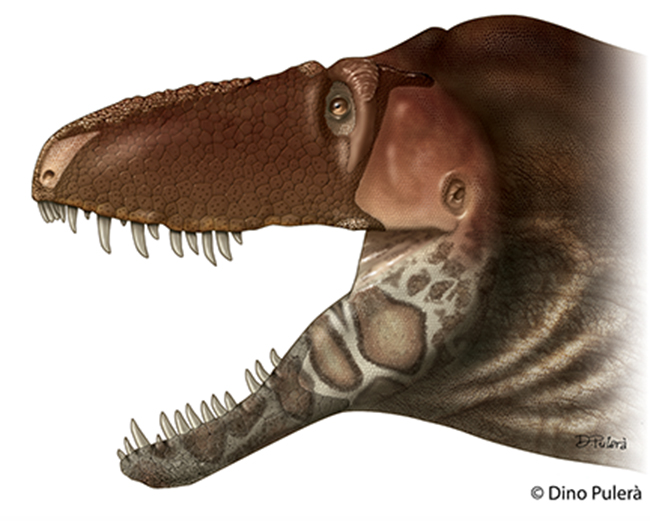 Jayc Sedlmayr, PhD, Assistant Professor of Cell Biology & Anatomy at LSU Health Sciences Center New Orleans School of Medicine, was part of an international team of scientists who discovered a new tyrannosaur with an unusual mode of evolution. Their findings include that Daspletosaurus horneri, or "Horner's Frightful Lizard," evolved directly from its geologically older relative, D. torosus, a rare form of evolution called anagenesis where one species gradually morphs into a new one. The research also changes the face of tyrannosaurs, which the team concluded was covered by a lipless mask of large, flat scales, with smaller patches of armor-like skin and horn, as well as a highly touch-sensitive snout. The work is published online in Nature Research's Scientific Reports, available at http://nature.com/articles/doi:10.1038/srep44942.
The team, led by Thomas Carr, PhD, of Carthage College's Department of Biology, also included Dr. David Varricchio of Montana State University, Dr. Eric Roberts of James Cook University and Dr. Jason Moore of the University of New Mexico. Dr. Carr is an expert on the evolution and growth of Tyrannosaurus rex and its closest relatives, collectively called tyrannosaurs.
LSU Health New Orleans' Dr. Jayc Sedlmayr, an evolutionary biologist whose research is in evolutionary anatomy, provided the biological non-boney anatomical perspective and interpretation. The team worked with excellently preserved fossils – a skull and skeleton of a subadult, a skull and skeleton of an adult, a partial lower jaw of a subadult, and isolated bones of subadults and juveniles. The scientists compared tyrannosaur skulls with those of crocodylians, birds and mammals as well as earlier research that matched bone texture with different types of skin covering.
"Much of our research went beyond field paleontology – it was generated from lab-based comparative anatomy, the dissection of birds as living dinosaurs and crocodilians as their closest living relatives, and based on the similarities of the facial nerves and arteries we found in those same groups which left a trace on the bone, we were able to then reconstruct in the new tyrannosaur species," notes LSU Health New Orleans anatomist Jayc Sedlmayr, PhD.
Media Contact
Leslie Capo
Office: 504-568-4806
Cell: 504-452-9166
lcapo@lsuhsc.edu
Related
A new tyrannosaur with evidencefor anagenesis and crocodile-likefacial sensory system