HHS Awards $1 Million Nursing Diversity Workforce Grant to LSU Health New Orleans School of Nursing
September 19, 2023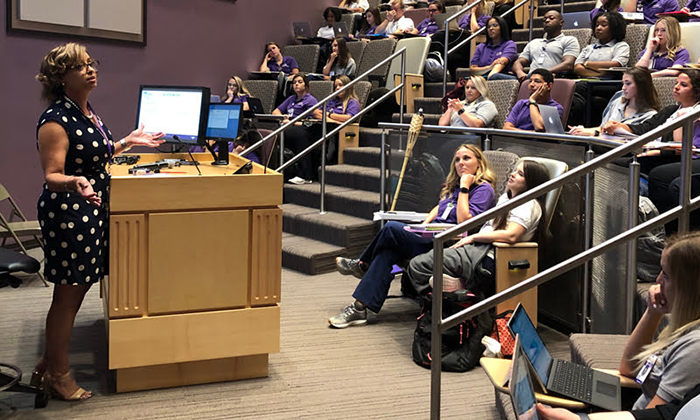 The Department of Health and Human Services has awarded the LSU Health New Orleans School of Nursing a $1.085 million Health Resources and Services Administration (HRSA) grant to provide a diverse nursing workforce prepared to provide high-quality, culturally aligned care and improve health care access for patients in rural and medically underserved communities. The Nursing School will meet the goal by recruiting, enrolling, educating, and graduating undergraduate students from minority and/or disadvantaged backgrounds and increasing the recruitment and retention of faculty from underrepresented minority populations.
The funding will also support enhancing the curricula using multiple strategies that promote students' academic success. They include student support services, social and financial support, student mentoring, holistic admissions, and collaborative partnerships.
According to the Department of Education, the degree to which a student from a disadvantaged background can look to the front of the classroom and see a faculty member from the same or similar background may be the difference between that student dropping out of college or staying in school to finish their degree. Having adult role models who are also successful in working and living in an inclusive environment sends students from all backgrounds a powerful message that their lives are fuller when they can share ideas with people who have different perspectives.
"We are delighted to accept this grant and allocate it towards enhancing faculty and student recruitment, retention, and graduation efforts," says Dr. Benita Chatmon, Assistant Dean for Clinical Nursing Education and Grant Program Director at LSU Health New Orleans School of Nursing. "The grant's assistance will offer students extra financial support as they progress through the program, and it will also enable us to develop focused strategies for recruiting and retaining underrepresented minority faculty and students."
According to the 2022 population estimates of the US Census Bureau, African Americans, Hispanics, Asians, and American Indians/Alaska Natives make up 40% of the US population.
"Currently, minorities make up 20% of the nursing workforce in Louisiana," notes Demetrius Porche, DNS, PhD, ANEF, FACHE, FAANP, FAAN, Professor and Dean of LSU Health New Orleans School of Nursing. "Developing a culturally diverse workforce is critical to reducing ethnic and racial health disparities. Recruiting and graduating nursing students from minority backgrounds is one way to alleviate health disparities by producing a workforce that reflects the population."
LSU Health New Orleans School of Nursing prepares professional nurse leaders as generalists, advanced practice nurses, educators, scholars, and researchers to transform nursing and health care.
______________________________________________________________________________________________________________ LSU Health Sciences Center New Orleans (LSU Health New Orleans) educates Louisiana's health care professionals. The state's health sciences university leader, LSU Health New Orleans includes a School of Medicine with campuses in Baton Rouge and Lafayette, the state's only School of Dentistry, Louisiana's only public School of Public Health, and Schools of Allied Health Professions, Nursing, and Graduate Studies. LSU Health New Orleans faculty take care of patients in public and private hospitals and clinics throughout the region. In the vanguard of biosciences research, the LSU Health New Orleans research enterprise generates jobs and enormous annual economic impact. LSU Health New Orleans faculty have made lifesaving discoveries and continue to work to prevent, advance treatment or cure disease. To learn more, visit http://www.lsuhsc.edu, http://www.twitter.com/LSUHealthNO, or http://www.facebook.com/LSUHSC.