Keeping the Music Alive
Jazz Fest Brings Musicians' Clinic Anniversary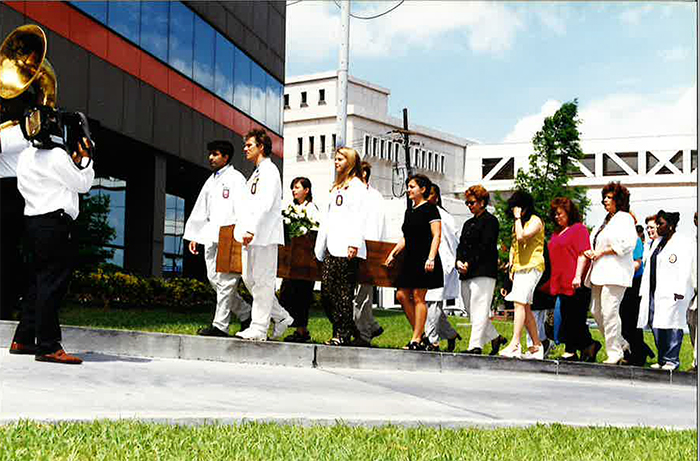 Twenty-one years ago this week, a jazz funeral for jazz funerals kicked off the official dedication of LSU Medical Center (now LSU Health New Orleans) Musicians' Clinic. Led by the Algiers Brass Band playing a soulful dirge, a group of LSU Health medical student "pall bearers" carried a casket symbolizing the premature death of New Orleans musicians due to a lack of health care.
Following a performance by Rev. Lois Dejean and Johnson Extension and the Next Generation, the late Dr. Merv Trail, then LSU Health Chancellor, told the crowd including doctors, nurses, musicians, community leaders, elected officials and Mardi Gras Indians, "As Louisiana's flagship medical center, we feel a sense of responsibility to the people we serve, particularly those who have been under-served. Members of the music community have historically done without or had inadequate access to health care. As a result, we and the world, have lost far too many far too soon. Music makes our way of life incomparably rich. And for all of our problems, we are truly blessed to live in this place. We are very proud that LSU Medical Center is the birthplace of health care for musicians in the birthplace of jazz."
In partnership with the New Orleans Jazz and Heritage Foundation and the Daughters of Charity, LSU Medical Center and LSU Healthcare Network founded the first clinic of its kind in the country. Providing care to musicians on a sliding fee scale with a $10 minimum payment, for the first time, New Orleans musicians had access to health services tailored to their specific needs.
Media Contact
Leslie Capo
Office: 504-568-4806
Cell: 504-452-9166
lcapo@lsuhsc.edu
Related
Musicians' Clinic Info
Location: LSU Healthcare Network 3700 St. Charles Avenue
Hours: M-F, 9 AM - 5PM Phone: 504-412-1366
To support the Musicians Clinic, visit New Orleans Musicians' Assistance Foundation
About John Lowery: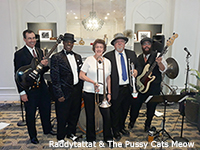 www.raddy.biz
About Naydja CoJoe