"LOCKDOWN FUNK"
LSU Health New Orleans Medical Students Use Musical Talents to Help Prevent COVID-19
January 26, 2021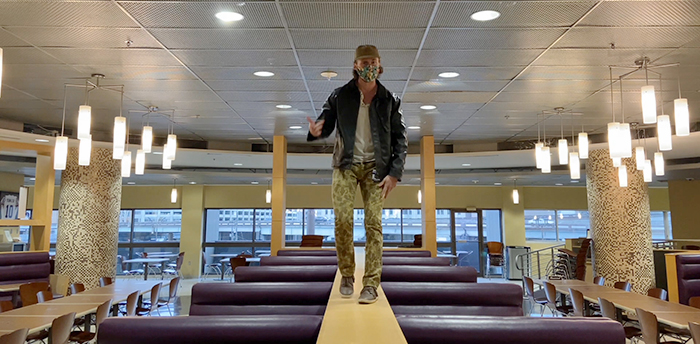 In what may be the first adaptation of Mark Ronson's and Bruno Mars' "Uptown Funk" to COVID-19, LSU Health New Orleans medical students have made a video to encourage people to #MaskUp. Mask wearing has been shown to be a powerful tool to stop the spread of SARS-CoV-2, the virus that causes COVID-19. Four second-year students at LSU Health New Orleans School of Medicine created "Lockdown Funk," which made its debut this week,
https://youtu.be/tLHReF_HssQ
.
Accepting the suggestion to make a video, Rebecca Nuss, Nancy Ren, George Brand, and Trey Moffatt enthusiastically set to work over the summer. As members of the Student Interest Group for Music & the Arts (SIGMA), they used their musical and performance talents to educate people about this life-saving information in a fun and relatable way.
"It took a huge collective effort to make it happen," says LSU Health New Orleans medical student Nancy Ren. "We loved having the opportunity to use our creative talents in medical school."
George Brand, IV, was responsible for the music mixing and production. Rebecca Nuss wrote the lyrics and helped edit the video. Trey Moffatt wrote the script. Nancy Ren also edited the video. All four contributed to the vocals.
"We've been told it's just the perfect balance of goofy, fun, and informative," adds Ren. "We hope this will really stick in the public's minds when they think about wearing a mask. We certainly can't sing 'Uptown Funk' normally anymore!"
SIGMA is a group of LSU Health New Orleans medical students with a passion for things other than the hard sciences. Members are dancers, musicians, DJs, painters, poets and everything in between. Events are usually a good balance between an escape from school and a fundraiser for various charities. Beneficiaries have included LSU Health New Orleans' Camp Tiger, Make Music NOLA, Operation SMILE and the New Orleans Musicians' Clinic.
______________________________________________________________________________________________________________ LSU Health Sciences Center New Orleans (LSU Health New Orleans) educates Louisiana's health care professionals. The state's health sciences university leader, LSU Health New Orleans includes a School of Medicine with branch campuses in Baton Rouge and Lafayette, the state's only School of Dentistry, Louisiana's only public School of Public Health, and Schools of Allied Health Professions, Nursing, and Graduate Studies. LSU Health New Orleans faculty take care of patients in public and private hospitals and clinics throughout the region. In the vanguard of biosciences research, the LSU Health New Orleans research enterprise generates jobs and enormous annual economic impact. LSU Health New Orleans faculty have made lifesaving discoveries and continue to work to prevent, advance treatment or cure disease. To learn more, visit http://www.lsuhsc.edu, http://www.twitter.com/LSUHealthNO, or http://www.facebook.com/LSUHSC.