LSU Health Medical Students Who Responded to In-Flight Medical Emergency Honored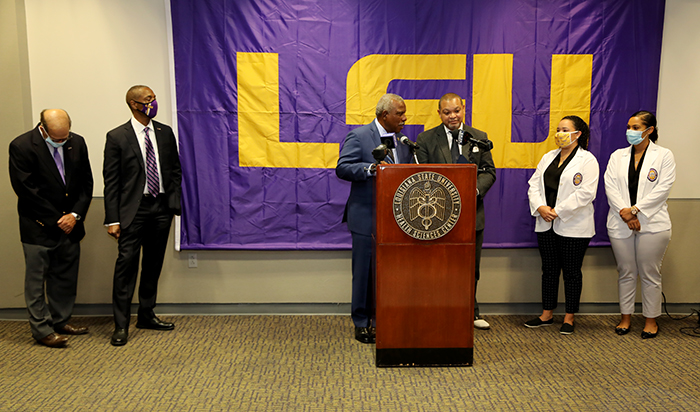 LSU Health New Orleans second-year medical students Heather Duplessis and Lauren Bagneris were honored by the Louisiana State Legislature and Mayor LaToya Cantrell during new LSU President William Tate, IV's first visit to LSU Health New Orleans.
Senators Joseph Bouie (D-District 3) and Jimmy Harris (D-District 4) presented a resolution from the Louisiana State Legislature commending the students for putting their LSU Health Medical education to use to assist a passenger with a medical emergency aboard an airplane. Mayor Cantrell recognized and congratulated the students on behalf of the City of New Orleans. She presented proclamations to each student, as well as City of Yes Award medallions.
Dr. Larry Hollier, LSU Health New Orleans Chancellor, and LSU Health New Orleans School of Medicine Dean Dr. Steve Nelson, LSU Board of Supervisors Chair Robert Dampf and LSU President Dr. William Tate IV added their thanks and congratulations.
The event took place during LSU President William F. Tate IV's tour of LSU Health New Orleans' campus. It followed President Tate's introduction to simulation-based medical education. Heather and Lauren helped President Tate save a "patient" during a scenario run by Daryl P. Lofaso, MEd, RRT, Director of Simulation Operations, in the Isidore Cohn, Jr, MD Student Learning Center.