LSU Health New Orleans Awards Diplomas to New Members of Health Care Professions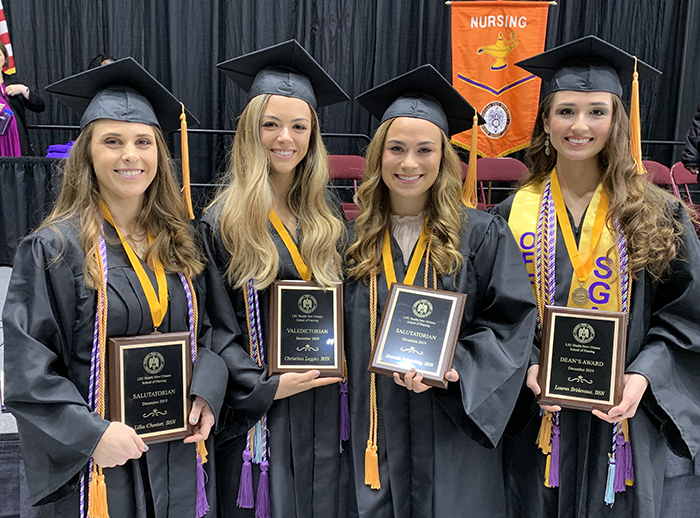 One hundred twenty-eight LSU Health New Orleans School of Nursing students completed their academic requirements during the summer and fall of 2019 and were awarded their diplomas. A Graduation and Awards Ceremony honoring them was held Thursday, December 12, at the Alario Event Center.
Demetrius Porche, DNS, PhD, ANEF, FACHE, FAANP, FAAN, Dean presided over the ceremony. Larry Hollier, MD, Chancellor of LSU Health New Orleans, addressed the graduates, and James Williams, Past Chair, brought greetings from the LSU Board of Supervisors and helped confer degrees. Ann Cary, PhD, MPH, RN, FNAP, FAAN, Dean of the Marieb College of Health and Human Services at Florida Gulf Coast University and alumna of LSU Health New Orleans School of Nursing, was the keynote speaker.
Taking top honors were Christina Michelle Leggio, Valedictorian; Lilia Noelle Chester and Hannah Pascal Pohorelsky, Salutatorians; as well as Lauren Ashley Bridevaux, Dean's Award recipient.
Graduating with honors were:
Magna Cum Laude
Lilia Noelle Chester, Christina Michelle Leggio, Hannah Pascal Pohorelsky
Cum laude
Brenna Andre Cuevas, Hayley Elizabeth Stant
Other graduates honored were Gaylord Anthony Adams, Brittany Ann Blache, Anna Caroline Edwards Burge, Laurie Stine Finger, Steven Nicholas Giorlando, Susan Elaine Lee, Olivia Ann LoCascio, Melissa Ferniz Nunn, Ian John Readeau.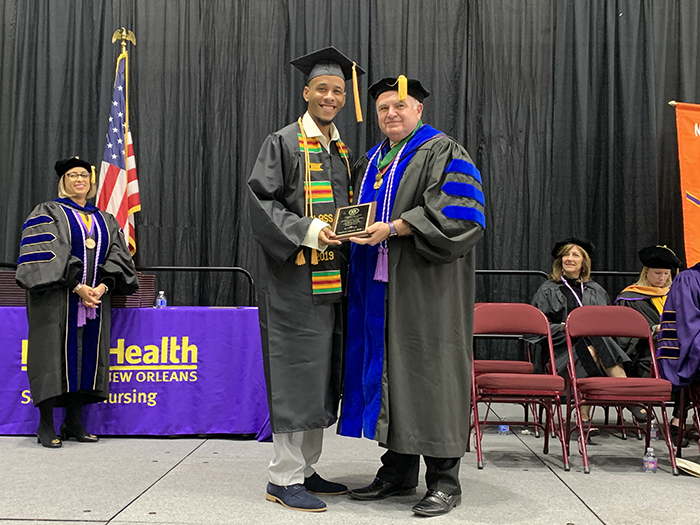 A complete list of degrees awarded follows:
Bachelor of Science in Nursing
Gaylord Anthony Adams, Vanessa Louise Alfano, Haleigh Elizabeth Armstrong, Jeanne Fielding Bass, Latasha Ann Becnel, Chelsy Renee Bennett, Brittany Ann Blache, Hayley Marie Blaise, Allison Lauren Blanche, Isabella Crais Booher, Caroline Elizabeth Boudreaux, Gina Marie Bouis, Allison Frances Braud, Marjorie Elizabeth Breda, Lauren Ashley Bridevaux, Lorenzo Bridgewater, Jr, Morgan Cassels Brown, Paige Ella Buisson, Mia Elizabeth Casanova, Kelly Christine Chaplain, Lilia Noelle Chester, Grace Kathryn Ciaston, Nicholas Jonathan Clark, Jerica Inez Cole, Myalique Sha'ron Collette, Megan Alexis Crowder, Brenna Andre Cuevas, Morgan Ann Daigle, Nicole Marie Daspit, Danielle Lynne Dean, Kolbi Christian DeJean, Alexis Marina DeSalvo, Holly Marie Dugas, Nicole Lee Dupre, Victoria Florita Durand Day, Megan Elaine Evans, Michelle Menesses Fanz, Anna Marie Foltz, Elise Michelle Fourchy, Greta Davis Gerstung, Steven Nicholas Giorlando, Megan Michelle Gitz, Jarett Alexander Gongora, Taylor Ann Gorman, Megan Genna Harmon, William Garrett Hartman, Taylor Pierre Hausler, Brianna Rae Hebert, Sara Kenney Heidingsfelder, Claire Andre' Hill, John Christopher Huffman, Ashleigh Claire Hurrelbrink, Shannon Rochelle Jackson, Brooke Elizabeth Juneau, Paige Catherine Kastner, Tabitha Rush Khidirov, Claire Elizabeth Kingsbery, Victoria Marianna Krig, Donika Marie Lampton, Lynleigh Angelle Landry, Alexis Nicole LaVenia, Isabella Seraphine LeBlanc, Savannah Marie Leboeuf, Allison Ann Ledet, Christina Michelle Leggio, Alexandra Garland Levi, Monica Nicole Lewis, Olivia Ann LoCascio, Anna Gabriela Lopez, Garrett Scott Malbrough, Sara Elizabeth Marsilia, Marie Angelle Matirne, Adriana Arrigunaga McClure, Dylan James Melancon, Emily Lavie Mjelde, Chanie Lynn Mollere, Taylor Jordan Morvant, Adley Amanda Murphy-Mejia, Rehema Wanjira Muruthi, Victoria Maria Nielsen, Emily Ann Noggerath, Felicitas Okhakia, Jehovahbambi Sayo Owoeye, Kristina Maria Percle, Kylee Rae Pitre, Hannah Pascal Pohorelsky, Alison Kate Rausch, Ian John Readeau, Brittany Kaye Richard, Brett Taylor Rooks, Bailey Elizabeth Schehr, Heidi Frances Schexnayder, Colleen Ann Schilling, Julia Catherine Schulze, Kayla Kari Seals, Reese Anthony Simoneaux, Jacqueline Barker Slocum, Joanna Elizabeth Smilari, Azaria Simone Smith, Keion RayLloyd Smith, Hayley Elizabeth Stant, Abby Kristine Starkovich, Jena Romaire Sterling, Christian Lee Stone, Savannah Neal Stonebreaker, Jennifer Lea Stringer, Kara Ann Terrio, Sophia Ann Tumminello, Oghenemaro Cecilia Ugbeme, Billy Micheal Wallace, Madison Agnes Waller, Alexandra Elliotte Walters, Caroline Shannon Watts, Sara Jane Weber, Emily Elizabeth Wild, Suzette Jamal Williams, Kayla Mae Willis, Christina Charlene Marie Wodajo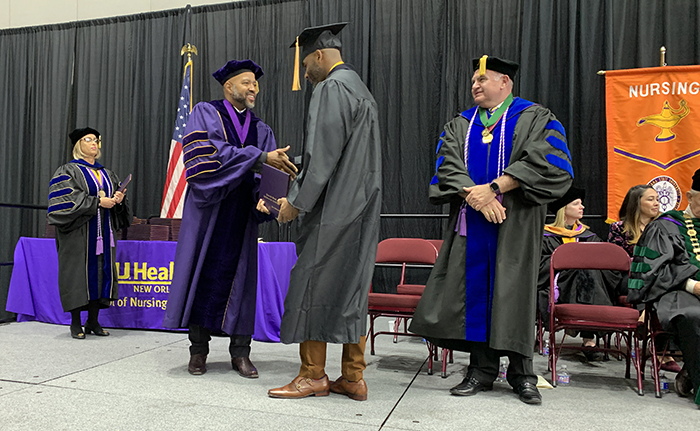 Master of Science in Nursing
Anna Caroline Edwards Burge – Nurse Educator
Doctor of Nursing Practice
Laurie Stine Finger – Pediatric Nurse Practitioner - Acute Care; Susan Elaine Lee – Primary Care Family Nurse Practitioner; Melissa Ferniz Nunn – Pediatric Nurse Practitioner - Acute Care
Thirteen students in four other LSU Health New Orleans schools also earned their degrees in December 2016. They are:
SCHOOL OF ALLIED HEALTH PROFESSIONS
Master of Occupational Therapy
Brian Patrick Hoerner
SCHOOL OF GRADUATE STUDIES
Doctor of Philosophy in Human Genetics
Ayesha Pesi Umrigar
Doctor of Philosophy in Pharmacology & Experimental Therapeutics
Kevin Michael Ebert, Alyssa Christine Fournett
SCHOOL OF MEDICINE
Doctor of Medicine
Joshua Phillip Culotta, Sara Nicole Karnes, Hong-Van Thi Nguyen, Anthony George Saliba
SCHOOL OF PUBLIC HEALTH
Doctor of Philosophy in Biostatistics
Christine Grace Watters, Lin Zhu
Master of Public Health
Lily Joan Fahrenwald, Taylor H. Kriete, Simone Elmae' Kelley White