LSU Health New Orleans Designated a Skin Smart Campus
April 20, 2023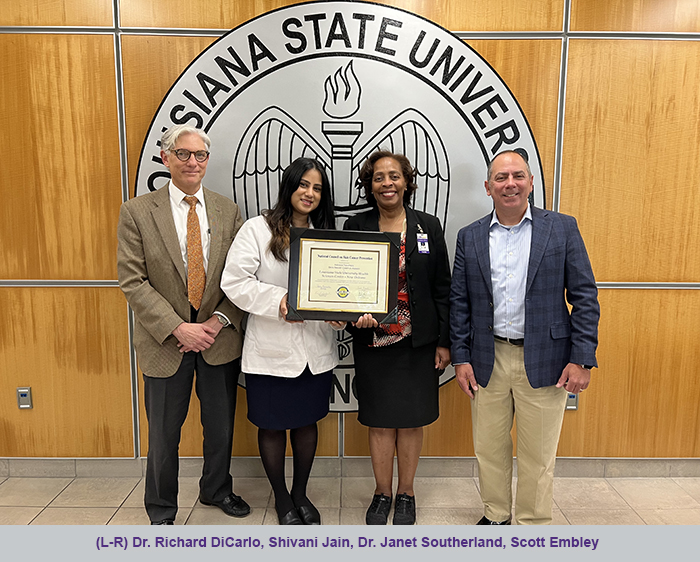 The National Council on Skin Cancer Prevention has presented the Platinum Level Skin Smart Campus Award to LSU Health New Orleans. The award recognizes outstanding commitment to ensuring the well-being of its students by providing a safe and healthy learning and living environment on and off campus.
According to the Council, LSU Health New Orleans met all criteria for the top award, which include "does NOT list any off-campus housing that includes indoor tanning as an amenity on the university's off-campus housing listings website; does NOT permit any indoor tanning salon to be included as a university-affiliated debit card merchant; provides access to an educational webpage on the college/university website, focusing on the risks of UV exposure and skin cancer prevention practices, to students, faculty, and staff at all times; signs a Memo of Understanding drafted by the National Council. This demonstrates a formal commitment to becoming a Skin Smart Campus, ensuring that the university prohibits future relationships with the tanning industry."
Third-year medical student Shivani Jain was instrumental in starting the Skin Smart campus initiative at LSU Health New Orleans. She worked with Scott Embley, LCSW, CEAP, Director of the Campus Assistance Program, and Wellness Committee member on the webpage. LSU Health New Orleans'
Skin Smart educational webpage
contains information about risk factors, skin of color, UV index, and skin cancer prevention tips and resources. It is located on the Wellness Committee website.
"I knew that I wanted to do more to help on a population-health level, to be really engaged in a public health campaign and not only the academic side of cancer prevention," Jain says. "It's common to feel far removed from skin cancer and to think it can't happen to you or your loved ones, to fall into a false sense of security because you have a naturally darker skin tone. And, being in New Orleans where we get a lot of sun exposure year-round and where we also have a lot of work to do to increase health equity, I think it's especially important we do more to educate ourselves and others about risks. One of my hopes is to see sunscreen more freely available in public, similar to how commonplace it is to see hand sanitizer stations and water fountains in parks and for the UV index to be something people check just as they would the weather forecast before they go out for the day. LSU Health New Orleans is a leader in our greater New Orleans community and our whole state, so I'm excited to see us officially take this stance and to be strong advocates for skin health initiatives."
The Council has given Jain's desire a head start at LSU Health New Orleans. They donated dispensers with a year's supply of sunscreen that will be installed on campus.
"The goal of the LSUHSC Wellness Committee is to promote holistic health, well-being, and to foster a culture that supports healthy lifestyle choices," notes Embley. "The Skin Smart Campus initiative is a wonderful addition to the wellness offerings we have here at LSUHSC New Orleans. The LSUHSC Wellness Committee and LSUHSC would like to thank Shivani and the Skin Smart Campus initiative for giving us the opportunity to educate our students and employees on skin cancer prevention and risk reduction."
"We are happy to be recognized as a Skin Smart campus," says Dr. Richard DiCarlo, Interim Dean of LSU Health New Orleans School of Medicine. "Taking simple steps to prevent skin cancer should be a part of our daily lives. This recognition fits nicely with other initiatives, such as our Well Spot designation and the opening of our new Wellness Center."
The Indoor Tan-Free Skin Smart Campus Initiative was developed in response to the 2014 U.S. Surgeon General's Call to Action to Prevent Skin Cancer, which concluded that there is a strong association between the increased risk of skin cancer and indoor tanning use. Numerous studies have found that skin cancer is the most common type of cancer in the United States, and melanoma—the deadliest form of skin cancer—is one of the most common cancers diagnosed among young adults. According to The International Agency for Research on Cancer Working Group, the use of indoor tanning facilities before age 35 increases the risk for melanoma by 75 percent.
The LSU Health New Orleans Wellness Committee plans to continually update interactive tools on the webpage for members of the public to stay engaged. Shivani Jain is helping to train fellow students on effectively communicating messages around behavior change and continuing to work with organizations across the city to educate youth and underserved groups. She is also working with LSU Health New Orleans administration to implement educational display boards across campus facilities.
______________________________________________________________________________________________________________ LSU Health Sciences Center New Orleans (LSU Health New Orleans) educates Louisiana's health care professionals. The state's health sciences university leader, LSU Health New Orleans includes a School of Medicine with campuses in Baton Rouge and Lafayette, the state's only School of Dentistry, Louisiana's only public School of Public Health, and Schools of Allied Health Professions, Nursing, and Graduate Studies. LSU Health New Orleans faculty take care of patients in public and private hospitals and clinics throughout the region. In the vanguard of biosciences research, the LSU Health New Orleans research enterprise generates jobs and enormous annual economic impact. LSU Health New Orleans faculty have made lifesaving discoveries and continue to work to prevent, advance treatment or cure disease. To learn more, visit http://www.lsuhsc.edu, http://www.twitter.com/LSUHealthNO, or http://www.facebook.com/LSUHSC.
The National Council on Skin Cancer Prevention has been a trusted resource for the nation's skin cancer prevention community since 1998. Today, we stand as a united voice to prevent skin cancer through education, advocacy and raising awareness. The National Council brings support, encouragement, and connection to more than 45 organizations, agencies, and associations that are making a real difference in the lives of millions of adults, children, and families throughout the country. For more information, visit https://skincancerprevention.org/.