LSU Health New Orleans Earns Highest WellSpot Designation
July 5, 2022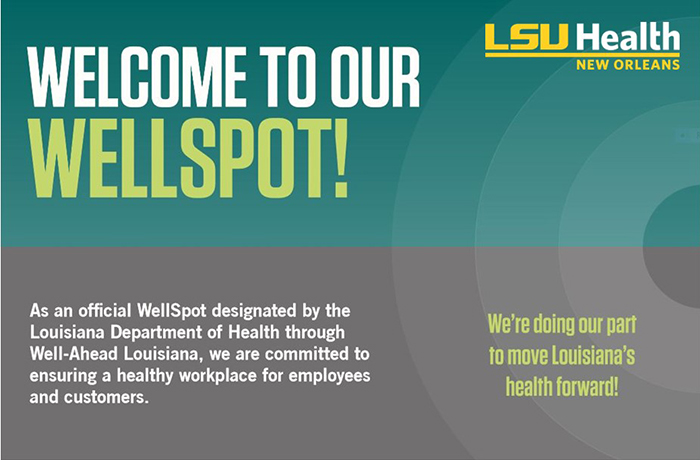 The Louisiana Department of Health (LDH) has designated LSU Health New Orleans as a Level 1 WellSpot through its Well-Ahead Program. Level 1 is the highest designation given.
According to LDH, WellSpots are spaces and places in Louisiana that voluntarily implement healthy changes in their environment to help their employees and community live well. Organizations that meet certain wellness benchmarks are designated as a Level 1, 2 or 3 WellSpot. These benchmarks are tailored to type organization type—worksite, childcare center, school, college or university, restaurant, hospital, health care facility or faith-based organization.
LSU Health New Orleans is a tobacco-free campus and offers tobacco cessation programs. The university is a lactation-friendly workplace. Worksite wellness programs include the Campus Assistance Program and the LSU Health Wellness Center – a comprehensive fitness and wellness facility with fitness assessments, a spin studio, cardio equipment, saunas, a group exercise room, a Pilates Reformer studio, a free weight area, mindfulness training and more. The university promotes 5-2-1-0 daily guidance -- 5 or more fruits and vegetables, 2 hours or less on recreational screen time, 1 hour or more of physical activity, 0 soda and sweetened drinks. The vending machines include healthy snack options. Health meeting options like walking meetings are encouraged. The Campus Health Clinic offers health care and education services on campus. Resources also include nutritional information and pre-diabetes and heart health assessment tools.
"This designation shows our commitment to practicing what we teach," says Dr. Steve Nelson, LSU Health New Orleans Interim Chancellor. "As Louisiana's most comprehensive health sciences university, our dedication to improving the health of our State starts by providing a healthy working and learning environment for our faculty, staff, students and visitors."
To learn more about Well-Ahead Louisiana, visit
www.wellaheadla.com
.
______________________________________________________________________________________________________________ LSU Health Sciences Center New Orleans (LSU Health New Orleans) educates Louisiana's health care professionals. The state's health sciences university leader, LSU Health New Orleans includes a School of Medicine with branch campuses in Baton Rouge and Lafayette, the state's only School of Dentistry, Louisiana's only public School of Public Health, and Schools of Allied Health Professions, Nursing, and Graduate Studies. LSU Health New Orleans faculty take care of patients in public and private hospitals and clinics throughout the region. In the vanguard of biosciences research, the LSU Health New Orleans research enterprise generates jobs and enormous annual economic impact. LSU Health New Orleans faculty have made lifesaving discoveries and continue to work to prevent, advance treatment or cure disease. To learn more, visit http://www.lsuhsc.edu, http://www.twitter.com/LSUHealthNO, or http://www.facebook.com/LSUHSC.