LSU Health New Orleans Medical Students Proudly Wear Their New White Coats

October 25, 2021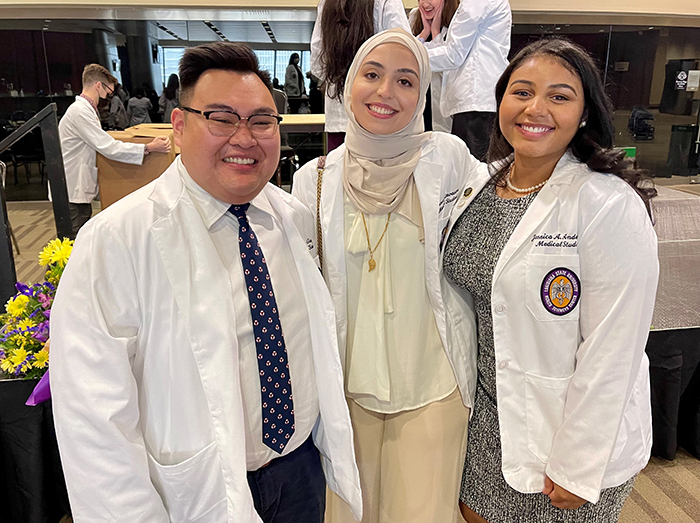 One hundred ninety-five members of the Class of 2024 and one hundred ninety-seven members of the Class of 2025 at LSU Health New Orleans School of Medicine marked a milestone recently during their White Coat Ceremonies. The pandemic forced the cancellation of the Class of 2024's ceremony last year, so both classes celebrated this month. Being "coated" by faculty members the students specially chose is a rite of passage as they transition from the lecture hall to clinical care.
According to the Arnold P. Gold Foundation, cloaking with the white coat—the mantle of the medical profession—is a hands-on experience that underscores the bonding process. The coat is placed on each student's shoulders by individuals who believe in the student's ability to carry on the noble tradition of doctoring. It is a personally delivered gift of faith, confidence and compassion.
Their Dean, Dr. Steve Nelson, told the Class of 2024, "Today, you will receive your stethoscope. Several years ago, I was being interviewed by City Business. The reporter knew I was an intensive care physician, and so we spoke briefly about all of the technology that is in the Intensive Care Unit. She then asked me what my favorite was. I replied the stethoscope. She was puzzled and queried, 'Why is that?' I replied that is because of all of the technology and instrumentation employed in the care of these critically ill patients we can easily become detached from the patient we are caring for. But when I lay my hand and my stethoscope on the patient's chest and feel the chest move and hear the heart beat, I am reminded that there is someone's father, mother, brother, sister or loved one entrusted to my care."
The students nominated Dr. Robert Maupin, Associate Dean for Diversity & Community Engagement and Head of the Maternal-Fetal Medicine Division, for the Association of American Medical Colleges (AAMC) Humanism in Medicine Award. He addressed the students, followed by the winner of the Humanism in Medicine Essay Contest, Aniko Nowakowski, Class of 2024.