LSU Health New Orleans Nursing Students Resume Clinical Education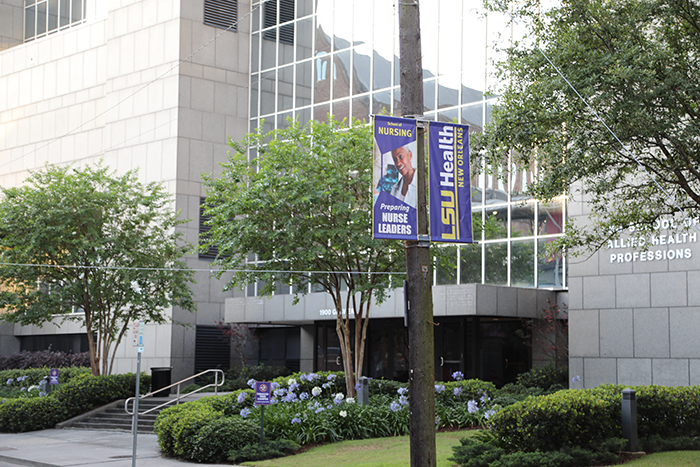 Students in the Bachelor of Science in Nursing (BSN) Degree Program at LSU Health New Orleans School of Nursing will resume their clinical education next week, initially at West Jefferson Medical Center.
"Clinical faculty will be teaching students as well as providing patient care in the clinical setting," notes Jennifer Manning, DNS, APRN, CNS, CNE, Associate Dean for the Undergraduate Nursing Program and Associate Professor of Clinical Nursing at LSU Health New Orleans School of Nursing.
Learning how to care for patients in clinical settings is an essential part of every nursing program curriculum, and State Boards of Nursing mandate these experiences for licensure.
"The academic practice partnership with West Jefferson Medical Center uses a model endorsed by several professional organizations," notes Demetrius Porche, DNS, PhD, ANEF, FACHE, FAANP, FAAN, Professor and Dean of LSU Health New Orleans School of Nursing. "This innovative academic practice model places the students' educational experience and expected clinical competencies at the center of their patient care experience. Nursing is a practice discipline that requires human to human care."
Like schools in other areas hit hard by COVID-19, LSU Health New Orleans School of Nursing pulled its students out of hospital settings to conserve personal protective equipment (PPE.) Now that supplies are being replenished, students will be able to return.
"The hospitals have assured us there is adequate PPE for the students and faculty," says Todd Tartavoulle, DNS, APRN, CNS-BC, Program Director for Traditional BSN Program and Associate Professor of Clinical Nursing at LSU Health New Orleans School of Nursing. "Our Dean is working on obtaining additional PPE, if they need it. Everyone is receiving an orientation that includes PPE education, and we have also provided each student with additional information on PPE usage."
As other opportunities arise, all our full-time clinical faculty will be transitioning back in the clinical environment with the students," says Dr. Manning.
Some LSU Health New Orleans nursing students could not wait to get back into the hospitals to contribute to the COVID-19 response. They have been working as Emergency Room nurse techs in the interim to help support their professional colleagues and ease the burden of an influx of patients.
"As an ER Tech working with COVID patients for the last few weeks, I see there is a real need for health care workers," says Jeremy Moniz, a JR II student in LSU Health New Orleans BSN Program. "LSU Health nursing students resuming clinical rotations will help to decrease that need."
He has heard from many of his classmates who, too, are eager to get back into the hospitals.
"We are grateful to our faculty for doing everything they can to ensure that we meet the clinical education requirements to graduate on time and that we are fully prepared to take care of our patients when we start our professional careers," notes Muniz.
Students who elect to drop the course now will not be penalized.
"We understand the overwhelming upheaval that students have experienced during this pandemic and will work with any student to pick up where he or she left off when they are ready," says Dr. Porche.
Christina Hebert, a Junior I BSN student at LSU Health New Orleans School of Nursing, sums it up. "Our focus is patient care and serving others. We are future nurses. This is what we do; we adapt to situations, utilize best practice and provide compassionate care. At the end of the day, being a nurse is a calling, an opportunity to serve. It's time to focus our nervous energy into productive outlets, where we can apply the knowledge we have learned at our time here at LSU Health New Orleans to work as team and be contributing members to our health care community."
______________________________________________________________________________________________________________
LSU Health Sciences Center New Orleans (LSU Health New Orleans) educates Louisiana's health care professionals. The state's health sciences university leader, LSU Health New Orleans includes a School of Medicine, the state's only School of Dentistry, Louisiana's only public School of Public Health, and Schools of Allied Health Professions, Nursing, and Graduate Studies. LSU Health New Orleans faculty take care of patients in public and private hospitals and clinics throughout the region. In the vanguard of biosciences research, the LSU Health New Orleans research enterprise generates jobs and enormous annual economic impact. LSU Health New Orleans faculty have made lifesaving discoveries and continue to work to prevent, advance treatment, or cure disease. To learn more, visit http://www.lsuhsc.edu, http://www.twitter.com/LSUHealthNO, or http://www.facebook.com/LSUHSC.