LSU Health New Orleans Participating in NIH Monoclonal Antibody Clinical Trial at UMC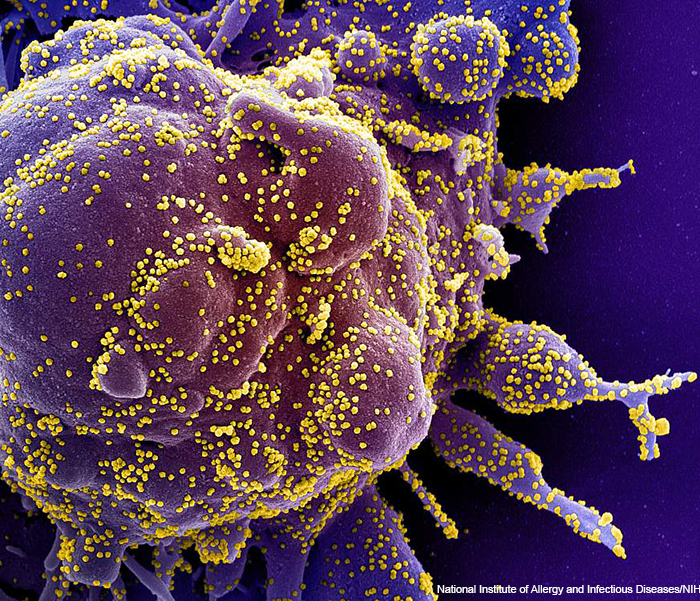 LSU Health New Orleans is participating in a National Institutes of Health (NIH) clinical trial evaluating the safety and effectiveness of monoclonal antibodies as a potential new treatment for COVID-19. Bennett deBoisblanc, MD, FACP, FCCP, FCCM, Professor and Pulmonary/Critical Care specialist at LSU Health New Orleans School of Medicine, is the principal investigator of the University Medical Center site.
It is one of four clinical trials planned in the NIH's Accelerating COVID-19 Therapeutic Interventions and Vaccines (ACTIV) program. According to the NIH, the current Phase 3 randomized, controlled trial is known as ACTIV-3, and as a "master protocol," it is designed to expand to test multiple different kinds of monoclonal antibody treatments. It also can enroll additional volunteers in the middle of the trial if a specific investigational treatment shows promise.
Antibodies are infection-fighting proteins made by the immune system that can bind to the surface of viruses and prevent them from infecting cells. Synthetic versions of antibodies can be reproduced in a laboratory. These manufactured antibodies are known as monoclonal antibodies. The LY-CoV555 antibody was discovered by AbCellera Biologics (Vancouver, British Columbia) in collaboration with the National Institute of Allergy and Infectious Diseases' (NIAID's) Vaccine Research Center. Subsequently, it was developed and manufactured by Lilly Research Laboratories, Eli Lilly and Company (Indianapolis, Indiana), in partnership with AbCellera.
Patients hospitalized with mild to moderate COVID-19 with fewer than 13 days of symptoms may volunteer to participate. Once their COVID-19 infections have been confirmed and they have consented to take part in the study, participants will be randomly assigned to receive either an intravenous (IV) infusion of the monoclonal antibody, LY-CoV555, or a saline placebo infusion. Participants also will receive standard care for COVID-19, including the antiviral remdesivir. After five days, participants' symptoms will be assessed, as will their need for supplemental oxygen, mechanical ventilation, or other supportive care. Volunteers will be followed for 90 days after enrollment and will receive regular examinations and have blood samples taken periodically during this time to analyze their response to the investigational therapeutic.
The initial stage of the ACTIV-3 clinical trial aims to enroll approximately 300 volunteers at the participating sites. Data collected on the fifth day of the volunteers' participation will determine whether the investigational therapeutic will be administered to a larger group of volunteers. If LY-CoV555 appears to be safe and appears to be effective, the trial will enroll an additional 700 participants. It also will begin enrolling more severely ill participants, such as those with organ failure requiring mechanical support, or COVID-19-associated dysfunction of organs other than the lungs. The primary endpoint of the trial is the participants' sustained recovery for 14 days after release from the hospital.
"Clinical trials like ACTIV-3 will help determine effective treatments for COVID-19, something we desperately need," notes Dr. deBoisblanc. "We are grateful to the NIH for selecting LSU Health and UMC to participate in this critically important research."
More information about the ACTIV-3 clinical trial is available
here
.
______________________________________________________________________________________________________________ LSU Health Sciences Center New Orleans (LSU Health New Orleans) educates Louisiana's health care professionals. The state's health sciences university leader, LSU Health New Orleans includes a School of Medicine with branch campuses in Baton Rouge and Lafayette, the state's only School of Dentistry, Louisiana's only public School of Public Health, and Schools of Allied Health Professions, Nursing, and Graduate Studies. LSU Health New Orleans faculty take care of patients in public and private hospitals and clinics throughout the region. In the vanguard of biosciences research, the LSU Health New Orleans research enterprise generates jobs and enormous annual economic impact. LSU Health New Orleans faculty have made lifesaving discoveries and continue to work to prevent, advance treatment or cure disease. To learn more, visit http://www.lsuhsc.edu, http://www.twitter.com/LSUHealthNO, or http://www.facebook.com/LSUHSC.