LSU Health New Orleans School of Nursing Honors December Graduates
December 16, 2022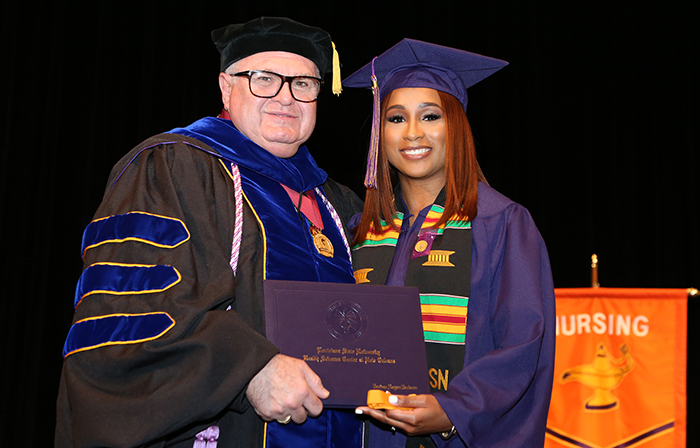 One hundred twenty-one LSU Health New Orleans School of Nursing students were presented their diplomas at a ceremony on Thursday, December 8, 2022, at the Frederick Sigur Center.
Dean Demetrius Porche, DNS, PhD, ANEF, FACHE, FAANP, FAAN, presided over the ceremony. Tracey Moffatt, MHA, BSN, RN, System Chief Nursing Officer & Vice President of Quality, Ochsner Health, and alumna of LSU Health New Orleans School of Nursing, was the keynote speaker.
Taking top honors were Macie Matherne, Valedictorian, Melanie Fradella, Salutatorian, and Alexis McCurdy, Dean's Award recipient.
Graduating with honors were:
Magna Cum Laude
Jaden Folse, Melanie Fradella, Macie Matherne.
Cum laude
Kaitlyn Barber, Rylie Brown, Alyssa Cain, Hailey Prendergast.
Other graduates honored were Hannah Avault, Kalli Bayer, Scott Bellanger, Liv Dinoso, Jaden Folse, Colin Nipper-Stevenson, Katie Pendergrass, Madison Smith, Calla Spallino, Megan Walters, Jamie Wiggins, Karsen Williams.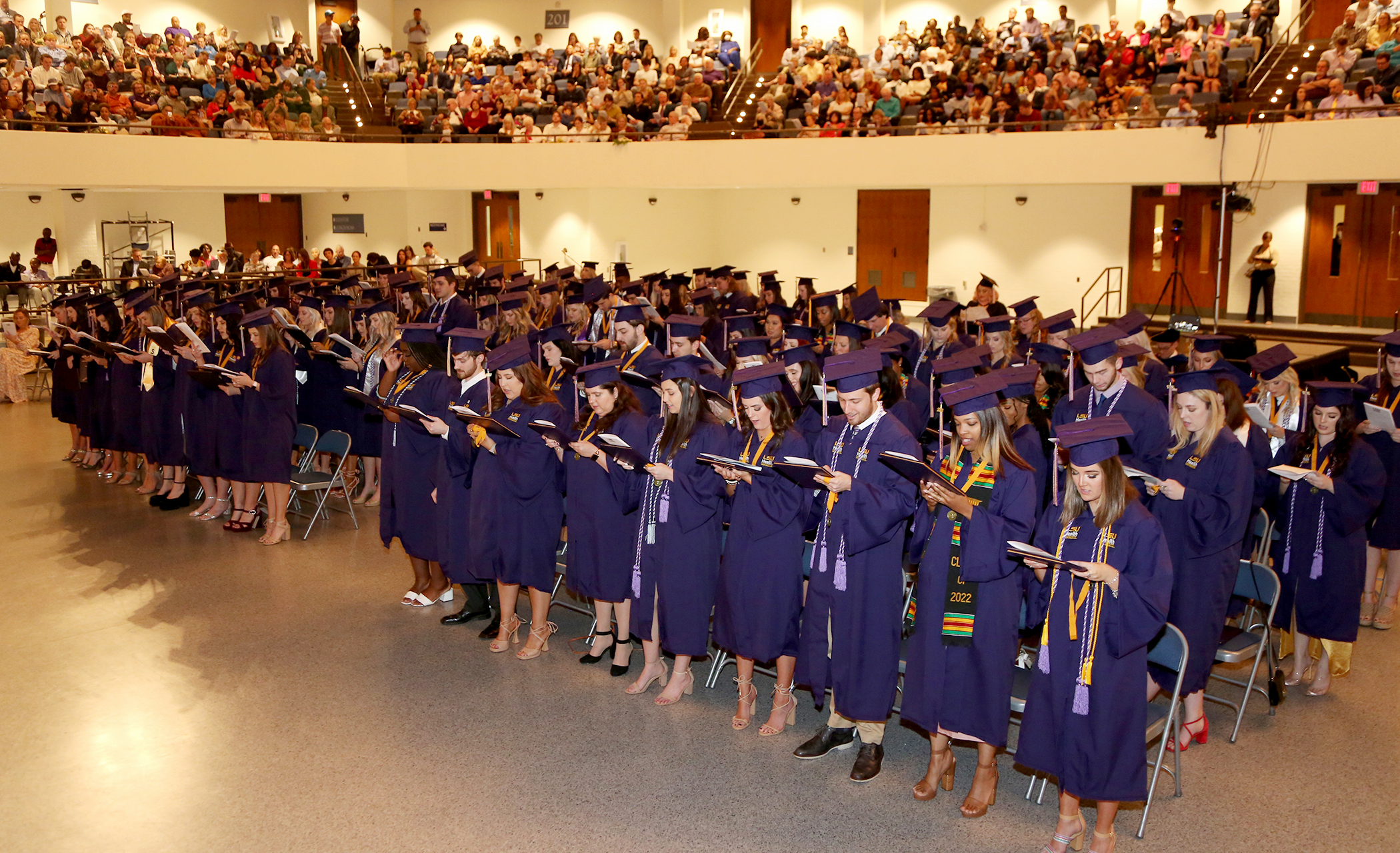 A complete list of degrees awarded follows:
Bachelor of Science in Nursing
Shannon Marie Acosta, Gabriele Klair Adams, Alexandra Katherine Amedio, Shelby Lynn Assavedo, Hannah Ann Avault, Brooke Christine Bagley, Kaitlyn Rae Barber, Ashley Lauren Barbier, Haley Lynn Barousse, Lauren Madison Battaglia, Kalli Love Bayer, Taylor Rene' Bergeron, Logan Marie Bodet, Tanna Lynn Boudreaux, Madelyn Lee Bridges, Brittany Ruth Bright, Carson Nicole Brooks, Rylie Marie Brown, David Robert Buddell, Reese Ann Businelle, Trinisia Domonik Iriel Butler, Valencia Ellonna Cade, Alyssa Marie Cain, Dane Christopher Chalin, Cydni Nicole Compeaux, Bria Janae' Daniels, Allie Dabadie Deranger, Megan Maria Derbes, Curtis Robert Dick Jr, Hannah Nicole Dorner, Hannah Rose Duplechain, Todd Webster Dupre, Destiny Autumn Ehmer, Madeleine Rose Erickson, Jaden Alexia Folse, Melanie Ann Fradella, Hannah Marie Galloway, Micquelle Donetell George, John Ernest Goss, Hillary Lianne Hafner, Ally Elizabeth Haley, Kylyn Mechel Hebert, Hannah Lane Helmer, Hannah Beals Herrington, Stephen Uriel Icaza, Jordan Rayan Jackson, Jasmine Monet Jones, Sara Alicia Kahao, Mallory Malone Kerrigan, Jacob Patrick Kirkman, Philip Grant Koenig, Christa Michelle Labourdette, Caroline Elise LeBlanc, Corey John Lee, Robyn Mae Lua, Jenna Marie Mahne, Sophia Angelina Manguno, Ryan David Manson, Kelly Nicole Marks, Macie Jennie Matherne, Emily Anne Matthews, Mallory Paige Mcculley, Alexis Michelle McCurdy, Bailey Alexandra Mclachlan, Isabel Scott Miciotto, Breah Ashton Mix, Shannon Kayleigh Moore, Madeline Elizabeth Morales, Katherine Grace Mouton, Destiny Dechelle Munson, Brittney Nicole Nezat, Colin Maloy Nipper-Stevenson, Landon Charles O'Quinn, Morgan Leigh Odom, Kenechi Erica Okeke, Daniela Samantha Padilla, Alexandra Christine Pagett, Caylee Kathlyn Palazzalo, Katie Ann Pendergrass, Meagan Jenise Perkins, Carley Marie Pigeon, Will Marley Pizzuto, Victoria Elizabeth Porter, Hailey Lynn Prendergast, Cortney Nicole Pritchett, Danielle Marie Randolph, Ashton Braud Richard, Grant William Rodrigue, Hannah Faith Rowley, Tayler Marie Rudisaile, Tierni Avian Savoie, Celeste Margaret Ponseti Scanio, Kyra Scoby-Hamilton, Joshua Anthony Secrest, Gabrielle Mckenzie Sehon, Kelsey Ilene Shingleton, Madison Lynn Smith, Calla Spallino, Anna Elisabeth Stark, Kayla Marisa Florestine Steele, Anna Elizabeth Stoma, Alexandria Alexis Taylor, Hayley Ann Templet, Precious Gabriel Thibodeaux, Lauren Nicole Timphony, Angela Anh Tran, Thuy Dan Tran, Naomi Angelynn Turley, William Clark Turner, Megan Elizabeth Walters, Kerri Wetzel, Margaret Thistle White, Karsen Grace Williams, Jaycee Cameron Wood, Gretchen Yeadon, Taylor Marie Yuratich.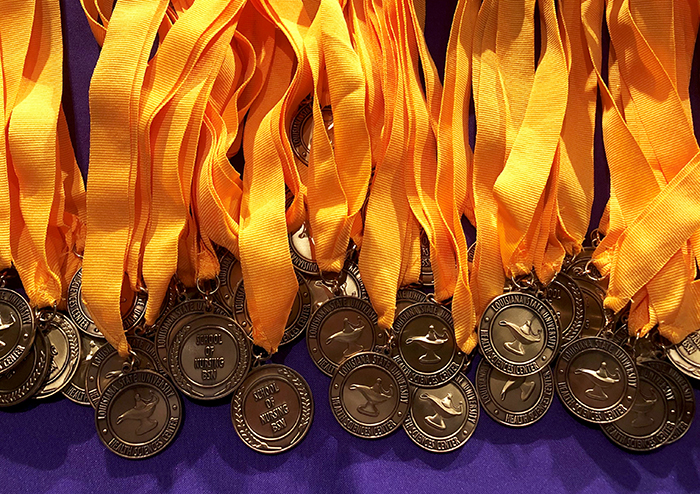 Doctor of Nursing Practice
Scott Paul Bellanger, Shelly Daniel Dolan, William Jemal Hill, Gelinia Jackson.
Doctor of Philosophy in Nursing
Jamie Langdon Wiggins.
Eleven students in three other LSU Health New Orleans schools also earned their degrees in December 2022. They are:
SCHOOL OF GRADUATE STUDIES
Doctor of Philosophy
Hassan Yousefi.
SCHOOL OF MEDICINE
Doctor of Medicine
Reniesha Tichelle Franklin, Marc Damon Moroux Jr, Tina Nguyen, David Adams Roberts.
SCHOOL OF PUBLIC HEALTH
Doctor of Philosophy in Community Health Sciences
Rebecca Danielle Atkinson.
Master of Public Health
Sarah Kimball Grunblatt, Taylor Machael Herring, Megan Ashley Preston, Hedz Nicole L. Tagle.
Master of Science
Tina Trosclair.
______________________________________________________________________________________________________________ LSU Health Sciences Center New Orleans (LSU Health New Orleans) educates Louisiana's health care professionals. The state's health sciences university leader, LSU Health New Orleans includes a School of Medicine with branch campuses in Baton Rouge and Lafayette, the state's only School of Dentistry, Louisiana's only public School of Public Health, and Schools of Allied Health Professions, Nursing, and Graduate Studies. LSU Health New Orleans faculty take care of patients in public and private hospitals and clinics throughout the region. In the vanguard of biosciences research, the LSU Health New Orleans research enterprise generates jobs and enormous annual economic impact. LSU Health New Orleans faculty have made lifesaving discoveries and continue to work to prevent, advance treatment or cure disease. To learn more, visit http://www.lsuhsc.edu, http://www.twitter.com/LSUHealthNO, or http://www.facebook.com/LSUHSC.