LSU Health New Orleans School of Nursing Ranked #1 in LA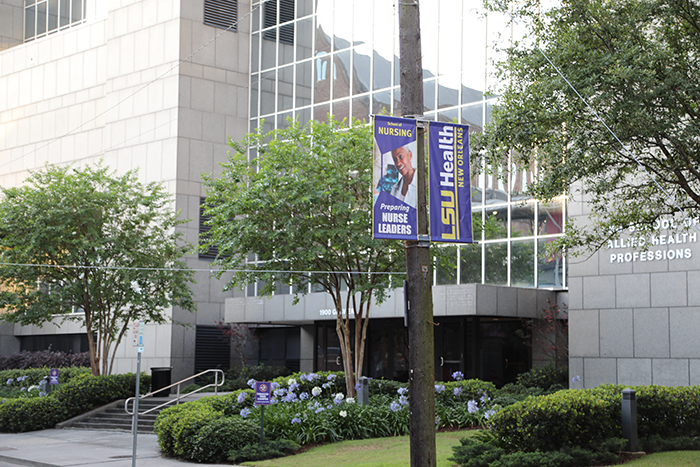 NursingProcess.org, an online one-stop shop for information about state nursing education for those considering nursing careers, has ranked LSU Health New Orleans School of Nursing the #1 accredited nursing school in Louisiana.
LSU Health New Orleans' ranking included its core values, the chief of which is the idea that nurses are stewards who protect the patients and resources entrusted to their care. The evaluators also took note of LSU Health New Orleans' Interprofessional Educational Program that provides nursing students many opportunities to interact with their colleagues in LSU Health New Orleans' other health professional schools.
NursingProcess.org mentioned the School's Simulation Center in the Nursing Skills and Technology Lab, a 15-bed virtual hospital environment with functional suction and oxygen wall units, heart monitors, crash carts, and other emergency equipment where students are able to perfect their clinical techniques by practicing them on high-fidelity mannequins.
The reviewers also cited the number and variety of clinical rotation sites, as well as avenues for financial aid and scholarships.
"Our nursing school's ranking is evidence of the dynamic educational environment provided at LSU Health New Orleans School of Nursing and the stellar ability of our faculty and nursing students," notes Demetrius Porche, DNS, PhD, ANEF, FACHE, FAANP, FAAN, Dean and Professor of LSU Health New Orleans School of Nursing.
According to NursingProcess.org, "with over 2,000 nursing schools and several types of nursing programs, it can get overwhelming to choose the right educational path." NursingProcess.org was founded in 2011 to simplify the research and provide state nursing education and career information. Backed by extensive research, it covers in-depth information about nursing schools, types of programs, salaries, employment outlook, and requirements specific to each state. The information is to help aspiring nurses make better choices about nursing education and plan career paths to ensure a smooth transition from school into the workforce.
LSU Health New Orleans School of Nursing is the only nursing school in Louisiana within an academic health sciences center. Nursing students receive the benefit of interprofessional education and interaction with other members of the health care teams they will be part of in professional practice. The School is also the only National League for Nursing designated Nursing Center of Excellence for Nursing Education in the state.
For more information about NursingProcess.org rankings, click here.
______________________________________________________________________________________________________________ LSU Health Sciences Center New Orleans (LSU Health New Orleans) educates Louisiana's health care professionals. The state's health sciences university leader, LSU Health New Orleans includes a School of Medicine with branch campuses in Baton Rouge and Lafayette, the state's only School of Dentistry, Louisiana's only public School of Public Health, and Schools of Allied Health Professions, Nursing, and Graduate Studies. LSU Health New Orleans faculty take care of patients in public and private hospitals and clinics throughout the region. In the vanguard of biosciences research, the LSU Health New Orleans research enterprise generates jobs and enormous annual economic impact. LSU Health New Orleans faculty have made lifesaving discoveries and continue to work to prevent, advance treatment or cure disease. To learn more, visit http://www.lsuhsc.edu, http://www.twitter.com/LSUHealthNO, or http://www.facebook.com/LSUHSC.