LSU Health New Orleans Smoking Cessation Success Featured as National Model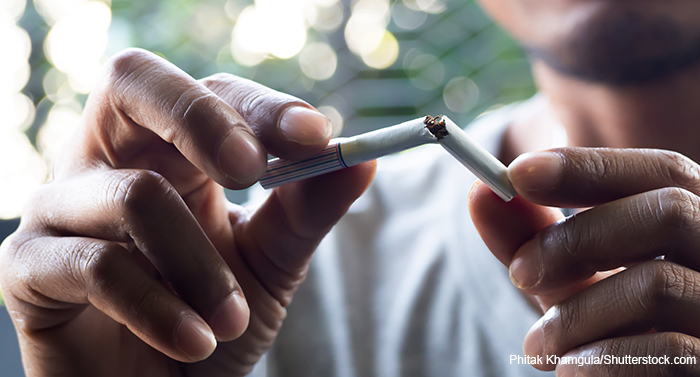 The Centers for Disease Control and Prevention (CDC) has featured a smoking cessation case study of LSU Health New Orleans' Louisiana Tobacco Control Initiative in its Million Hearts® Tobacco Cessation Change Package released nationally this month. It is one of only eight in the package.
The case study provides a road map of how to successfully incorporate smoking cessation into clinical care in health systems. The protocol the program developed and implemented includes education and training at every level. Between 2009 and 2011, the initiative contributed to a 9.5% relative decrease in the smoking prevalence of primary care patients and increased the relative odds of a six-month sustained quit rate by 1.5% for each clinical intervention delivered. The case study also shares lessons learned – the need for dedicated staff at each hospital; implementation flexibility and using data to keep a persistent call for change; and the need to create and sustain buy-in among the health system, clinicians and patients for treatment of tobacco use as an integral component of quality care.
The CDC's Office of Smoking and Health has declared 2019 the Year of Cessation.
"The LA-TCI is thrilled to have our work highlighted and to contribute to the systematic improvements in tobacco use and dependence treatment," notes Michael Celestin Jr., MA, CHES, CTTS, Director of the LA-TCI, a program of LSU Health New Orleans School of Public Health. "Adapting and implementing tools like ours contribute to the wave of activities catalyzed by OSH's Year of Cessation and help support the Million Hearts® goal to reduce tobacco use by 20% as part of their targeted approach to cardiovascular disease prevention."
CDC's Tobacco Cessation Change Package offers a set of evidence-based changes aimed at improving the delivery of clinical interventions for the treatment of tobacco use and dependence. Each of the five focus areas (key foundations, equipping care teams, screening, treatment, and referral and follow-up) contains actionable, specific change ideas for integrating tobacco dependence treatment into routine clinical care.
Million Hearts® is a national initiative to prevent 1 million heart attacks and strokes in five years. CDC co-leads Million Hearts® with the Centers for Medicare & Medicaid Services. Interestingly, LSU Health New Orleans emeritus professor Jack Strong, MD, was the first to link smoking to atherosclerosis, a major cause of cardiovascular disease.
According to the CDC, tobacco use is the leading preventable cause of disease and death in the United States and is a significant driver of health care costs. More than 16 million people in the U.S. live with at least one serious disease caused by smoking. Additionally, approximately 480,000 deaths and more than $300 billion in health care and lost productivity costs are attributable to smoking every year.
For more information about the Million Hearts® initiative and to access resources, visit http://millionhearts.hhs.gov. For more information about LSU Health New Orleans Louisiana Tobacco Control Initiative, visit https://sph.lsuhsc.edu/service/latci/.
______________________________________________________________________________________________________________
LSU Health Sciences Center New Orleans (LSU Health New Orleans) educates Louisiana's health care professionals. The state's health sciences university leader, LSU Health New Orleans includes a School of Medicine, the state's only School of Dentistry, Louisiana's only public School of Public Health, and Schools of Allied Health Professions, Nursing, and Graduate Studies. LSU Health New Orleans faculty take care of patients in public and private hospitals and clinics throughout the region. In the vanguard of biosciences research, the LSU Health New Orleans research enterprise generates jobs and enormous annual economic impact. LSU Health New Orleans faculty have made lifesaving discoveries and continue to work to prevent, advance treatment, or cure disease. To learn more, visit http://www.lsuhsc.edu, http://www.twitter.com/LSUHealthNO, or http://www.facebook.com/LSUHSC.