LSU Health New Orleans Study Discovers Source of Zika Neurodevelopmental Defects
April 6, 2021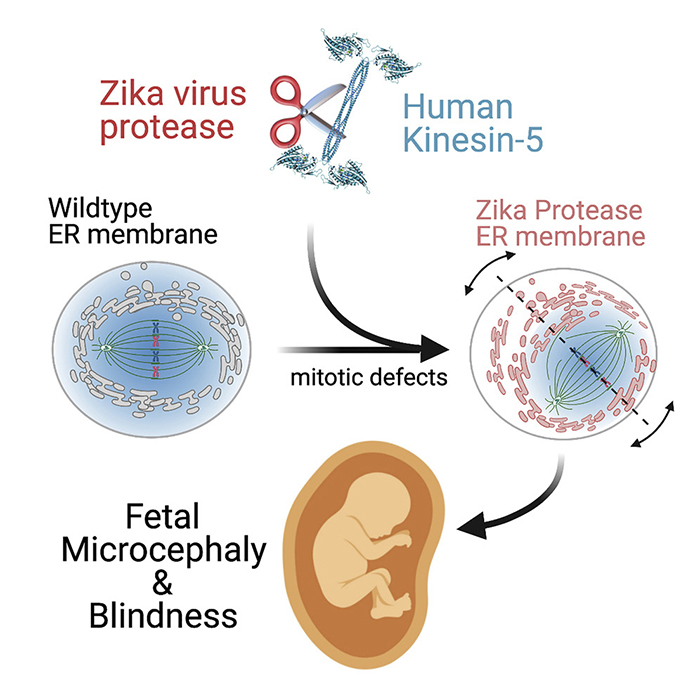 A study led by Edward Wojcik, PhD, Associate Professor of Biochemistry & Molecular Biology at LSU Health New Orleans School of Medicine, identified how microcephaly (abnormally small heads) and blindness may develop in Zika-infected fetuses, as well as a new way to potentially prevent these neurodevelopmental defects. The results are published online in iScience, available
here
.
The mechanism by which Zika virus disrupts neuronal development and results in congenital Zika syndrome was unknown. Because of similarities between Zika syndrome and a recognized congenital genetic disease (Kinesin-5) known to cause microcephaly and retinopathies in developing infants, the research team studied both, looking for similarities. They discovered a direct link, the first molecular and cellular evidence supporting a direct connection between the two.
"We had a hunch that the microcephaly and blindness that results from Kinesin-5 genetic disease could be linked to Zika infection, and the hunch paid off," notes Dr. Wojcik. "Our experiments identify a molecular motor as a target for degradation by an encoded Zika virus protein (Zika protease). The molecular motor is Kinesin-5, and it is required for cell division in humans. Our data identify Kinesin-5 as a target for the virus and links the infection to microcephaly."
The researchers observed that Zika protease cuts Kinesin-5 during cell division, disrupting the process and causing a loss of function. They also suggest a way to prevent it.