LSU Health New Orleans To Give Kids A Smile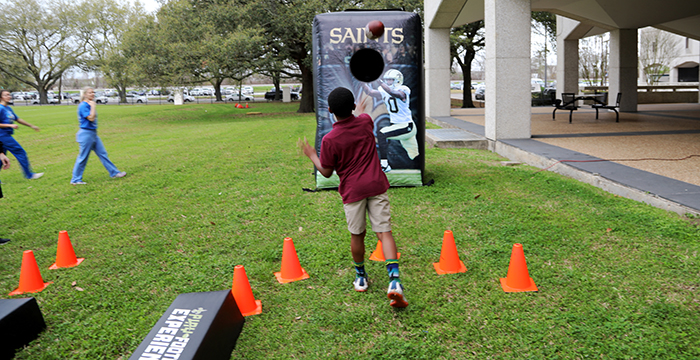 LSU Health New Orleans School of Dentistry and the New Orleans Dental Association (NODA) are partnering to Give Kids a Smile February 21, 2020. More than 200 students from Kenner Discovery Health Sciences Academy are expected to arrive at 8:45 a.m. at the LSU Health New Orleans School of Dentistry, 1100 Florida Avenue, to take part in the Give Kids a Smile Day event.
When the 1st- and 2nd-graders arrive, they'll be divided into groups, which will rotate through stations. Activities include outdoor sports and activities from the Saints Play Football Experience to promote physical fitness; dental hygiene how-tos featuring brushing, flossing and nutrition activities; as well as a photo booth for fun mementos of the day and a clown show with balloon fish. The Tooth Fairy and her friends Tooth and Sparkle will bring to life lessons on how to keep mouths healthy and smiles sparkling. NODA and LSU Health New Orleans dentists, dental and dental hygiene students, as well as dental residents will screen and clean the children's teeth, applying sealants where warranted. The groups will continue to rotate until all of the children have participated in all of the activities.
Sponsors of Give Kids a Smile Day include LSU Health New Orleans School of Dentistry, New Orleans Dental Association, American Dental Association and Risk Management Society of South Louisiana.
The latest statistics reported by the American Academy of Pediatric Dentistry include:
• Nearly one in five U.S. children under the age of five has experienced dental cavities.
• Nearly half of children aged 6–11 in the U.S. population are affected by tooth decay, along with more than half of those aged 12–19.
• Children living in poverty are twice as likely to suffer tooth decay, and their dental diseases are more than twice as likely to go untreated as their more affluent peers.
According to the American Dental Association Foundation, the Give Kids a Smile program was started as a way for dentists to join with others in the community to provide dental services to underserved children. Give Kids a Smile volunteers have provided oral health services to more than 5.5 million children since 2002.
______________________________________________________________________________________________________________
LSU Health Sciences Center New Orleans (LSU Health New Orleans) educates Louisiana's health care professionals. The state's health sciences university leader, LSU Health New Orleans includes a School of Medicine, the state's only School of Dentistry, Louisiana's only public School of Public Health, and Schools of Allied Health Professions, Nursing, and Graduate Studies. LSU Health New Orleans faculty take care of patients in public and private hospitals and clinics throughout the region. In the vanguard of biosciences research, the LSU Health New Orleans research enterprise generates jobs and enormous annual economic impact. LSU Health New Orleans faculty have made lifesaving discoveries and continue to work to prevent, advance treatment, or cure disease. To learn more, visit http://www.lsuhsc.edu, http://www.twitter.com/LSUHealthNO, or http://www.facebook.com/LSUHSC.