LSU Health's Dr. Corey Hebert Crowned New Mardi Gras King
January 27, 2023
What would have been a fantastical occurrence elsewhere but would ordinarily have been nothing unusual in New Orleans during Carnival Season, was anything but. It was a first! Two women bearing a crown, a scepter, and an official decree, waltzed into the clinic Thursday afternoon to make and celebrate a momentous and historic announcement.
Mary Schultheis, President and CEO of Crescent City WIC Services, Inc., and Stephenie Marshall, MS, RDN, CCHC, Executive Director of the Daughters of Charity, presented Dr. Corey Hebert with his regalia and a certificate with a key to the City from Mayor LaToya Cantrell. His surprise evident, Dr. Hebert read aloud the Certificate of Recognition that decreed him as the first King in the history of Maternal and Child Health for New Orleans Mardi Gras 2023!
"I was totally taken off guard," remarked Dr. Hebert, a clinical assistant professor of Pediatrics at LSU Health New Orleans School of Medicine. He humbly but gratefully accepted the honor for highlighting the importance of the health of moms and babies. "Maternal and child health is so important to the betterment of our city, state and nation. I'm proud to have served for the last 25 years of my life to better empower families in this region. Our state has implemented several audacious new policies in the last two months that will enhance the health of children and mothers, and LSU Health New Orleans is poised to be at the forefront of this very important movement."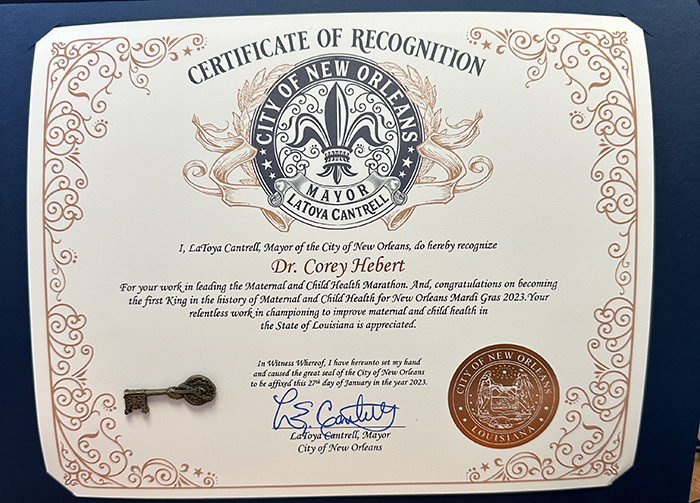 Happy Mardi Gras, y'all, and hail King Hebert!