New England Journal of Medicine Podcast Features LSU Health's Astronaut Dr. Serena Auñon-Chancellor
Two Physician-Astronauts Discuss Aerospace Medicine
January 10, 2023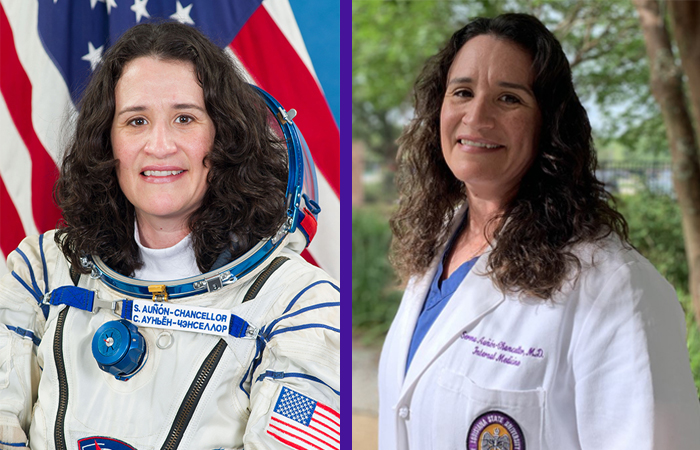 Serena Auñon-Chancellor, MD, Clinical Associate Professor of Medicine at LSU Health New Orleans School of Medicine's Baton Rouge campus, is one of two physician-NASA astronauts recently interviewed by the New England Journal of Medicine about aerospace medicine. The Curbside Consult podcast, available here, was published online on January 3, 2023.
A Flight Engineer on International Space Station Expeditions 56 and 57, Dr. Auñon-Chancellor spent 197 days in space. Back on earth, she continues working in the NASA Astronaut Office on medical issues and providing on-orbit support while also teaching LSU Health medical students and residents internal medicine and taking care of patients.
With the advent of commercial space, Dr. Auñon-Chancellor and her NASA colleague Dr. Michael Barratt, both double-boarded in internal and aerospace medicine, fielded questions about everything from physiologic changes in a gravity-free environment and medical certification of commercial space travelers to the aerospace medicine specialty.
They noted that pretty much every system in the body changes in zero gravity. After someone has been in space for a while, the body is almost extraterrestrial with different physiological norms. While medical monitoring data are constantly being gathered in space, the data can't be analyzed until back on earth. One of the challenges aerospace and space medicine specialists are working on is being able to analyze data in real-time to make clinical decisions in orbit. Projects also include how to build medical kits for Mars, how to look at a lunar base, and more.