Patent Issued for LSU Health & LSU Invented Tracking Surgical Headlight/Camera System
August 23, 2021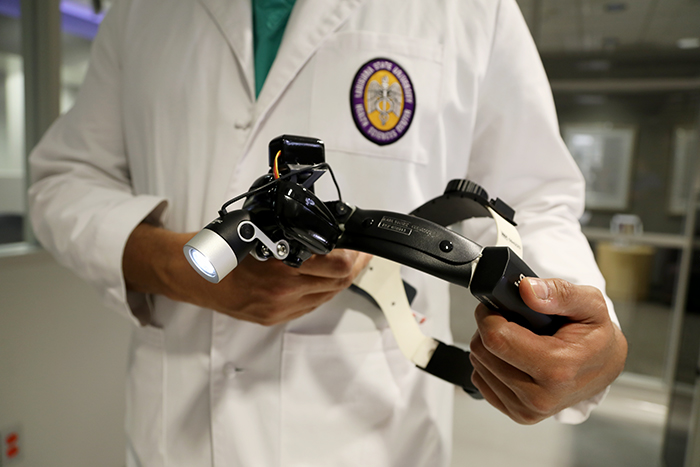 US Patent 11,085,611 has been issued for a medical device that sheds new light on surgical procedures. Rohan Walvekar, MD, Professor of Otolaryngology-Head and Neck Surgery at LSU Health New Orleans School of Medicine, and Jin-Woo Choi, PhD, Professor of Electrical and Computer Engineering at LSU, invented a surgical headlight that automatically tracks to the surgical field of interest with a positional indicator, eliminating the need to manually adjust the headlamp when it has moved out of position.
"Surgical procedures require strong and constant illumination," notes Dr. Walvekar. "Current lamp systems for the surgical theater are typically immobile and, therefore, once adjusted to a fixed point, cannot be moved unless they are manually readjusted. Fixed lighting systems may also result in blocking of the light by, for example, a member of the surgical team such that the work area requiring the light is now in shadow."
The position-adaptive lighting system comprises a pan/tilt adjustable housing enclosing a digital imaging system and a lens module that is operably connected to a computer-based digital control unit, a lamp, and a position indicator detectable by the digital camera system and the computer-based digital control unit. The tracking light can be attached to a headpiece or mounted on a floor stand.
This innovation not only saves time but also reduces the risk of infection. Manual readjustment of a headlamp breaks the sterile field necessitating re-sterilization or fine-tuning if an assistant performed the adjustment.