Rite of Passage
LSU Health New Orleans Students Receive Their White Coats
October 21, 2022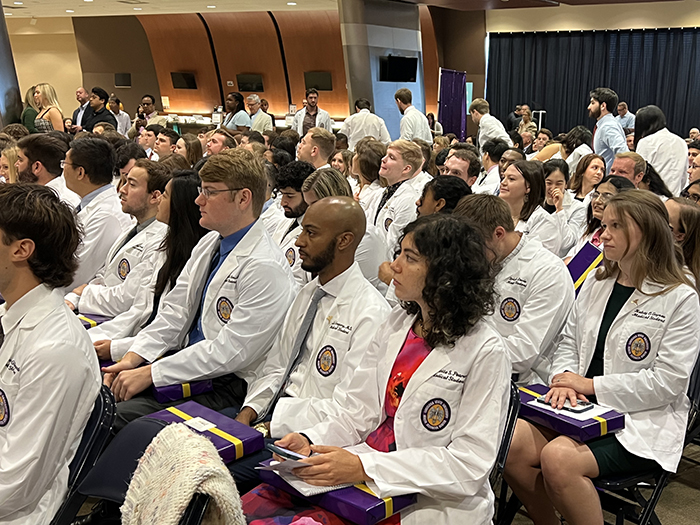 Hundreds of future clinicians recently reached a milestone in their journey toward becoming full-fledged, licensed members of their health care disciplines. Students in LSU Health New Orleans' Schools of Medicine, Dentistry, Allied Health Professions and Nursing received a visible symbol of patient care at their White Coat ceremonies.
Each ceremony featured words of wisdom from the school's dean, an esteemed health care professional, or as in the School of Medicine, the faculty nominee for the AAMC Humanism in Medicine award and the student winner of the Humanism in Medicine Essay Contest.
Students were "coated" by faculty "cloakers" they chose for the solemn moment. One by one, as the students' names were called, their faculty member placed the mantle of healing on their shoulders, helping them don their new white coats.
One of the most moving parts of the ceremony is the commitment the students recite in unison as their faculty, leadership, family and loved ones look on.
Included in the LSU Health New Orleans School of Medicine Class of 2026's Oath of Ideals – ". . .I pledge to always remember that each patient is someone's parent, child, sibling, friend and loved one, and that my actions not only affect the patient, but their families as well. . ."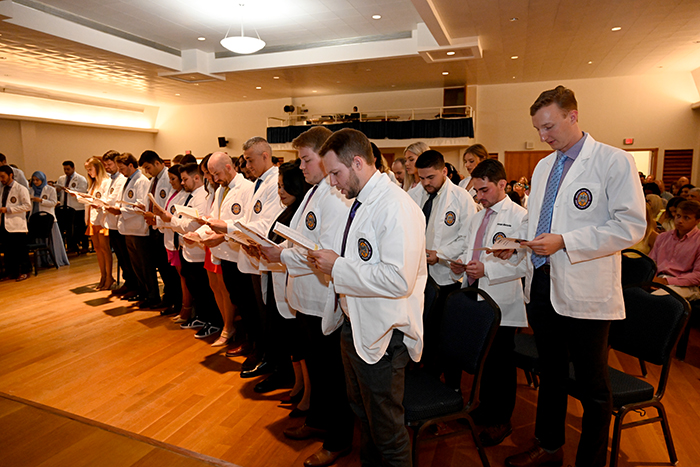 The Professional Oath that Dental Surgery, Dental Hygiene, and Dental Laboratory Technology students took included, "I accept this coat as a symbol of my profession and as a representation of my commitment to patients, to society, and to other health professionals. . ."
During their recitation of the American Physical Therapy Association Code of Ethics, Physical Therapy students declared, "Physical therapists shall enhance their expertise through the lifelong acquisition and refinement of knowledge, skills, abilities and professional behavior. . ."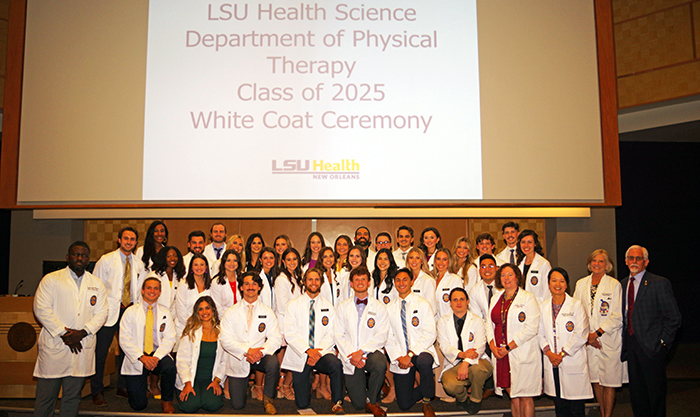 Nursing students promised to "Promote, advocate for, and strive to protect the health, safety, and rights of the patient" in their White Coat Ceremony Pledge.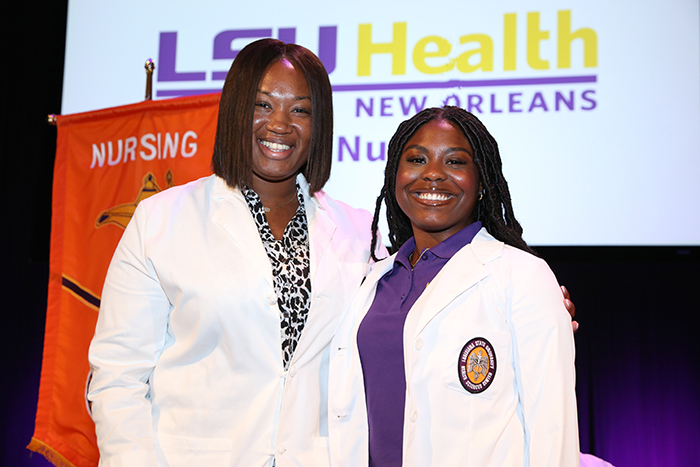 For the students, this rite of passage marks their transition from the classroom to health care practice. For the families, it is a moment of pride. For LSU Health New Orleans faculty and leadership, it is a moment of satisfaction, dignity and a renewed commitment to guiding the students on the path to becoming professional colleagues.
______________________________________________________________________________________________________________ LSU Health Sciences Center New Orleans (LSU Health New Orleans) educates Louisiana's health care professionals. The state's health sciences university leader, LSU Health New Orleans includes a School of Medicine with campuses in Baton Rouge and Lafayette, the state's only School of Dentistry, Louisiana's only public School of Public Health, and Schools of Allied Health Professions, Nursing, and Graduate Studies. LSU Health New Orleans faculty take care of patients in public and private hospitals and clinics throughout the region. In the vanguard of biosciences research, the LSU Health New Orleans research enterprise generates jobs and enormous annual economic impact. LSU Health New Orleans faculty have made lifesaving discoveries and continue to work to prevent, advance treatment or cure disease. To learn more, visit http://www.lsuhsc.edu, http://www.twitter.com/LSUHealthNO, or http://www.facebook.com/LSUHSC.