Dr. Carter knows the value of that all too well.
"For the last two decades, our student RNs have relied on LSU Health New Orleans faculty and other veteran employees to answer questions about matters such as socialization into nursing school, tuition, the GI bill, grants, stipends, and requesting leave time for deployment," she says. "Having an SVA chapter provides military-affiliated students with access to resources and a military community that they can relate to, interact with, and have needs met. This promotes camaraderie among SVA members and allows them to function effectively and pay it forward to incoming military-affiliated students."
Adds Stevenson, "LSU Health New Orleans was in dire need of a central point for military members and military-affiliated persons to find resources to help enhance our educational experience. We needed an organization to bring together the military community and allow us to help, depend on, and motivate one another. The SVA is exactly what we needed."
Cheatham amplifies the advantage of having a chapter. "I see SVA supporting veterans by providing a safe space for people who serve and by advocating for special situations veterans may experience."
"With the assistance of our administration following the SVA chapter's approval in August 2022, chapter officers -- President Marshay Stevenson, Vice President Deja Cheatham and Alumni officer Major Giang Martinez -- hit the ground running," Carter reports. "Within a week, they established recruitment stations at the nursing school, new student orientation and Family Day. They launched a website, set up a shared office, and a bulletin board that is centrally located by the third-floor elevators in the School of Nursing and Allied Health."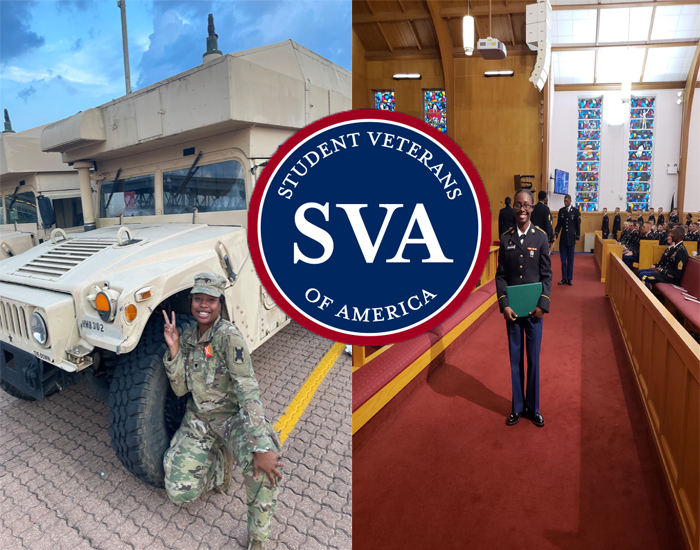 Plans include organizing fundraisers, Student RN boot camps, and restaurant give-back days. Service and community involvement opportunities include 5K runs for awareness, Ruck marches for PTSD, wounded warriors, and sending holiday cards and care packages to deployed soldiers. Officers plan to attend the January 2023 National Convention in Orlando, Florida, to network with the national SVA and other chapter members.
Membership is open to any nursing student enrolled in at least one credit hour who is a veteran, reservist, National Guard, or active-duty service member. Any student who has graduated from LSU Health New Orleans School of Nursing and is a veteran, reservist, National Guard, or active-duty service member may be an Alumni member. There is also an honorary membership category that includes dependents of military members (spouses & children). More information is available here.
The chapter now has 17 members and has big plans to expand.
"We intend on encouraging every military-affiliated student at LSUHSC to join to grow our organization into a huge community of support for veterans and military-affiliated students," exclaims Stevenson.