They're Here!
First Shipment of New Dental Chairs Arrives at LSU Health New Orleans School of Dentistry
September 5, 2023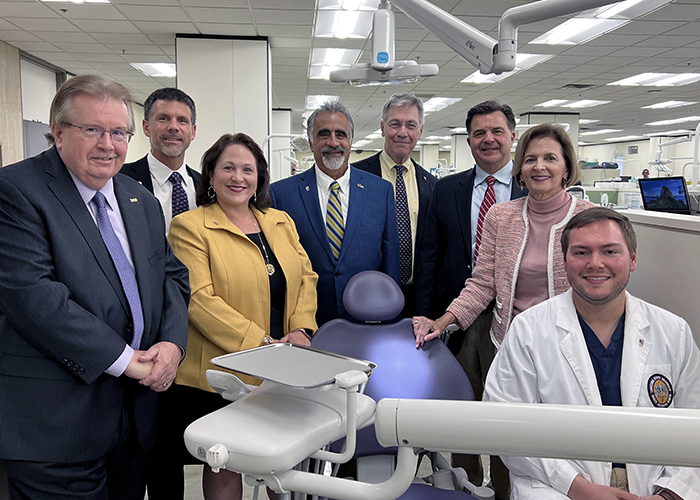 (L-R) Dr. Steve Nelson, Dr. Steve Morgan, Annette Droddy, Dr. Vincent DiLeo, Dr. Angelo Mariotti, Dr. John Gallo, Dr. Gizelle Richard, Brent Alexander
Louisiana Dental Association (LDA) leadership joined LSU Health New Orleans leadership recently to see the new dental chairs they helped make possible. Although not given a second thought by most, good dental chairs are a medical necessity. They support the patient's body, firmly holding the head and neck in place. They provide the comfort necessary to help the patient relax. They allow the dental team to maneuver and position the chair to get optimal access and avoid fatigue and physical stress from leaning over the patient. And they also hold the equipment needed to examine teeth and perform procedures.
From the LDA, Executive Director Annette Droddy, along with Drs. Vincent DiLeo, Gizelle Richard and Steve Morgan joined LSU Health New Orleans Interim Chancellor Dr. Steve Nelson, Dean of the School of Dentistry Dr. Angelo Mariotti, Dental Associate Dean of Clinical Affairs Dr. John Gallo and senior dental student Brent Alexander in the second-floor clinic where the first shipment of the just-installed chairs and dental stools awaited patients, dental students and faculty.
Dr. Nelson spoke with LDA leaders at their Dentists' Day at the Legislature and asked for their help to replace worn-out dental chairs at the school.