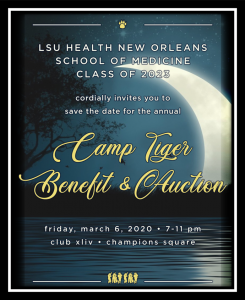 The annual Camp Tiger Benefit and Auction will take place on Friday, March 6, 2020 from 7-11 pm at Club XLIV.
The annual Camp Tiger Benefit & Auction is the largest fundraising source for Camp Tiger. The event features a Silent and Live Auction with items procured by the Class of 2023, including vacations, autographed sports memorabilia, artwork, jewelry, and much more. Guests from across Louisiana will enjoy the sounds of local music with food and beverages from New Orleans restaurants, both traditional favorites and new hotspots. All proceeds from the Auction will directly benefit Camp Tiger, contributing to a wonderful week at no cost to the participants. Our class is very excited for you to join in the fun and help make Camp Tiger 2020 great.
Take a look at some of the items that will be at the auction!
Click here for more information about the Camp Tiger Benefit and Auction!