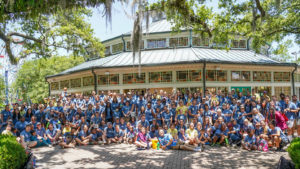 Welcome to Camp Tiger!

Camp Tiger invites children between the ages of 6-15 years old in the New Orleans, Northshore, Baton Rouge and Lower Parish metropolitan areas who are physically and/or mentally challenged to join us for a week-long day summer camp. We especially welcome those children who are unable to attend other camps available for special needs children.

As we continue to adapt our lives with COVID-19 still present within our community, and with safety as our top priority, Camp Tiger will offer both an in-person and virtual format this year. We are currently hard at work, planning and organizing Camp Tiger so that we can bring back the beloved in-person experience in a safe and socially distant way. With the huge success of last year's Virtual Camp experience, we wanted to continue this fun and exciting way for campers to participate in Camp Tiger who may be unable to attend in-person camp.
Who staffs the camp? The camp is organized and staffed by current first year medical students of the LSUHSC School of Medicine in New Orleans. We also invite the incoming first year class of medical students to assist as counselors during camp. There are two medical students for every camper.
How much does it cost? The camp is free of charge for eligible children. Camp Tiger counselors cannot be responsible for delivering camp supplies to individual homes. Parents/guardians are responsible for seeing that camper supplies are picked up on time.
Check out this interview from the people who started it all—our very own Camp Tiger founders!