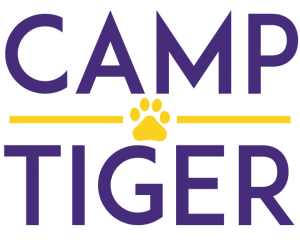 | | | |
| --- | --- | --- |
|   | The Camp Tiger 2023 Camper Application is NOW open! |   |

Read the following documents in full for all information regarding camp along with the actual camper application and submission.

Participation in Camp Tiger is open to all qualified children and is completely free of charge. This camp invites children between the ages of 6-15 years old in the New Orleans, Northshore, Baton Rouge and Lower Parish metropolitan areas who are physically and/or mentally challenged. We especially welcome those children who are unable to attend other camps available for special needs children. It is our goal to accommodate all children, due to limited funding and staff, we can only accept campers whose needs we can meet with our current resources. Campers must be age 6-15 at time of camp.
This year's Camp Tigerand will have two formats, both an in-person format and a virtual format. In order to adhere to current COVID-19 guidelines, we are planning to accept a lower number of campers than previous years to the in-person format of camp. We will also be accepting campers to participate in camp virtually. With our priorities in health and safety, LSUHSC has the right to cancel the in-person aspect of Camp Tiger at any time if the status of COVID-19 makes it unsuitable to hold in-person events. If this occurs, Camp Tiger will be converted entirely to the virtual format.
Any inquiries can be made to Coby Menard, Camp Tiger Director, cmenar@lsuhsc.edu. Thank you for your understanding and cooperation, and we look forward to seeing you at Camp Tiger 2023