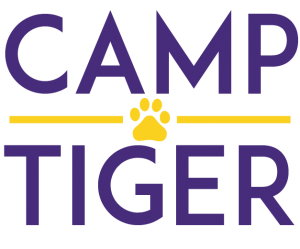 Camp Tiger General Information
Please follow the link above for additional information!
Participation in Camp Tiger is open to all qualified children on a first-come, first-served basis and is completely free of charge. This camp invites children between the ages of 6-15 years old in the New Orleans, Northshore, Baton Rouge and Lower Parish metropolitan areas who are physically and/or mentally challenged. We especially welcome those children who are unable to attend other camps available for special needs children. Although it is our goal to accommodate all children, due to limited funding and staff, we can only accept campers whose needs we can meet with our current resources. Due to the limited availability, campers must be age 6-15 at time of camp.
In order to provide a safe camp experience for both our campers and counselors, all children are required to be completely updated on their immunization records according to their age based on CDC guidelines. No exceptions. Any inquiries can be made to Peyton Hopkins, Camp Tiger Director, at phopk1@lsuhsc.edu or Cell: 407-461-7693. Thank you for your understanding and cooperation, and we look forward to seeing you at Camp Tiger 2020!
Return Completed Applications (including completed immunization records) by Friday, April 10 to:
CAMP TIGER 2020 APPLICATION
c/o Andante Hebert
Office of Student Affairs
LSU School of Medicine
2020 Gravier Street, 7th Floor
New Orleans, LA 70112
Having trouble downloading the application?
Download application as a PDF file (.pdf).
Download application as Microsoft Word Document (.docx).
Download application as Microsoft (97-2003) Word Document (.doc).
Looking for the other applications?
Click here for the Pre-Med Student Application.
Click here for the Incoming L1 Application.