LSU Health's Dr. David Simmons, a Peoples Health Champion
October 18, 2023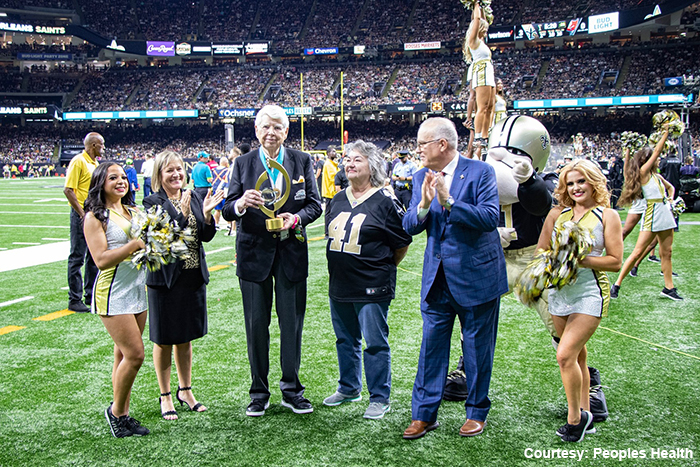 Dr. David Simmons, Associate Professor in the Department of Periodontics at LSU Health New Orleans School of Dentistry, is a People Health Champion! He was honored for launching the first-of-its-kind Implant Restorative Fellowship Program in August 2006, at the age of 67.
Dental implants have revolutionized the treatment of missing teeth and elevated the standard of patient care, and the 12-month Fellowship program trains periodontal residents in the latest techniques of implant placement and restoration. It has trained 24 fellows since its inception.
Dr. Simmons didn't expect to spend decades teaching students, residents and fellows after he retired from practicing dentistry for 30 years.
"I came out here to try to give back to my profession," he explains.
And give back he has. With an avid interest in dental implant technology, Simmons started writing grant proposals to fund the Fellowship while displaced to a temporary campus after Hurricane Katrina. He knew the industry, having also worked at a biomedical firm that created dental implants, and he knew that the field, evolving through innovations in implant technology and techniques, would benefit from further training. The technology requires collaboration between dental schools and the dental industry, and fellowships play a vital role in the transfer of knowledge leading to innovation. Simmons' efforts have successfully brought in hundreds of thousands of dollars to support the Fellowship, which also includes stipends and clinical research.
"Fellows, surgeons, technicians, students and others learn to work together," Simmons explains. "In doing so, the program builds an understanding that success – the point where patients benefit most – only comes through careful planning and teamwork."
Peoples Health Champions use their life experiences to "perform an amazing achievement after the age of 65." Champions are recognized during New Orleans Saints home games. According to Peoples Health, "The Peoples Health Champions program breaks long-held stereotypes about the capacity of seniors. Our Champions do amazing things, so we honor them in a very special way. It all begins with a nomination and culminates with their big moment under bright lights on the Superdome field. When given the cue, the Champion takes his or her place on the 10-yard line while a 90-second video of the Champion's achievement is played at full volume on the big screens to 70,000 fans. When the video ends, the Champions program director places an engraved medal around the Champion's neck, and a member of the Selection Committee presents the Champion with a personalized trophy. Every moment is captured on the big screens, and as fans cheer and applaud, the Champion is honored with a once-in-a lifetime, magical moment." Simmons' moment was on October 1, 2023.
A 60-second television spot ran afterwards.
Congratulations, Peoples Health Champion Dr. David Simmons!