Adobe Acrobat Pro in Citrix
The Adobe Acrobat Pro application is now available on the LSUHSC Citrix desktops.   To use in Citrix, you must have an Adobe Creative Cloud license.    All LSUHSC-NO faculty and staff are licensed.   Shreveport and HCSD faculty and staff should consult their local IT staff regarding licensing.
To launch, double click the "Adobe Acrobat DC" shorcut inside Citrix:

If it is your first time using the application in Citrix, you will be prompted to log on as depicted below: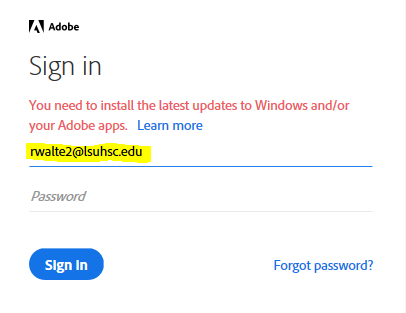 Please ignore the message in red text about needing to install latest updates – it is inaccurate and not a reason for concern.  Log on to Adobe by typing in your LSUHSC email address, as highlighted in the screenshot, and then press the Enter key or click on "Sign In".    If you are licensed the program will proceed to load.  (If you are not licensed you will see a message stating "Access Denied".)   Once you have successfully logged into Adobe with your email address the first time, you should not be prompted to log on upon subsequent use.   From then on, once you double-click the Adobe Acrobat DC shortcut, it should launch you fully into the application, as long as you are licensed for it.
Important Tip:  
Once you begin using Adobe Acrobat Pro you may notice an option for "Always open PDF's in Acrobat".   We recommend that you not choose this option in Citrix, because it will not persist.  This is because we intentionally reset the default program for PDF's back to Adobe Reader every time you log on to Citrix, for optimal integration with PeopleSoft.
As always, if you encounter any unexpected issues please contact our Help Desk at 504-568-HELP, or helpdesk@lsuhsc.edu.