LCRC Director Dr. Joe W. Ramos Joins LSU Health New Orleans Faculty to lead LSU Health-LCMC Health Cancer Center
LSU Health and LCMC Health reaffirm $100 million commitment to support LSU Health's Application as an NCI-Designated Cancer Center
November 6, 2023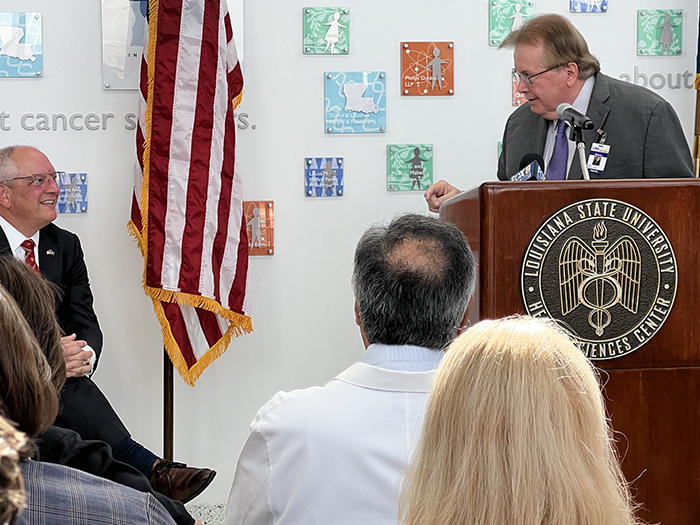 To accelerate the attainment of the first National Cancer Institute (NCI) Designated Cancer Center in Louisiana, LSU Health, LCMC Health, Louisiana Cancer Research Center (LCRC), and Tulane have aligned and signed an agreement that Joe W. Ramos, PhD, will serve as Director of the LSU Health - LCMC Health Cancer Center as a full-time member of the LSU Health New Orleans School of Medicine faculty and that LSU Health New Orleans will be the applicant institution for NCI designation.
LSU Health and LCMC Health have each committed $50 million to the LSU Health- LCMC Health Cancer Center aimed at changing the trajectory of cancer prevention, detection, and treatment throughout Louisiana. The LSU Health-LCMC Health Cancer Center will utilize the funding to expand cancer-focused research and multidisciplinary care programs, which will support the organization's journey to NCI designation. LCMC Health will be the lead medical center partner.
"LSU Health New Orleans is dedicated to achieving cancer center designation," notes Dr. Steve Nelson, LSU Health New Orleans Interim Chancellor. "We have been building our programs, our research enterprise, our partnerships across the state and recruiting and retaining outstanding faculty to realize this goal. And the National Cancer Institute has taken notice. They have repeatedly recognized our expertise as a national leader in research. Our Dr. Augusto Ochoa, who previously led the Tumor Immunology and Immunotherapy Laboratory at the NCI, was one of only 28 experts nationally and the only one in Louisiana selected to serve on the Cancer Moonshot Blue Ribbon Panel. Last November, the NCI highlighted the success of our Gulf South NCORP led by Dr. Ochoa to increase access to promising cancer treatments in communities throughout Louisiana."
Last March, the First Lady and Senator Cassidy came to see LSU Health's Virtual Research Nurse Program, supported by the Al Copeland Foundation, which overcomes the lack of trained research nurses outside of academic health centers, critical to providing access to cancer clinical trials throughout our region.
"None of this would be possible without the support of LSU President William Tate and LCMC Health led by Greg Feirn," says Dr. Nelson. "President Tate has said that LSU has an inherent commitment and responsibility to elevate our state, and an NCI-designated cancer center for Louisianians is one of his top watershed efforts. LCMC Health's initial $50 million contribution combined with our financial commitment will expedite our progress in developing world-class, multidisciplinary cancer care and clinical research programs driven toward earning NCI designation for Louisiana."
The LSU Health-LCMC Health Cancer Center will provide evidence-based care grounded in science to drive advancements benefiting patients in Louisiana. Adds Dr. Nelson, "No one should have to leave the state to receive the best care."
Dr. Ramos will also oversee the LSU Health-LCMC Health Cancer Center's community outreach and engagement programs designed to help promote and educate people about cancer prevention, detection, and treatment.
"We are excited to have Dr. Joe W. Ramos join us as the LSU LCMC Health Cancer Center Director to help lead the charge for innovative cancer research, life-saving treatment for patients, and expanding access to cancer care through our academic partners LSU and Tulane," says Greg Feirn, CEO, LCMC Health. "As we continue to make a strong commitment to improving cancer outcomes, it is important that we come together to provide the best possible care for our community. Through this alignment of efforts, we are now one step closer to bringing a National Cancer Institute (NCI) Designated Cancer Center to our region."
Dr. Ramos has been Director and CEO of the LCRC since August 2022, and he will continue to serve in this role. His leadership of the LCRC will strengthen the alignment between participating institutions: LSU Health New Orleans, Tulane University, Xavier University and Ochsner Health.