LSU Health New Orleans Highlights Contributions of Nurse Practitioners
November 15, 2023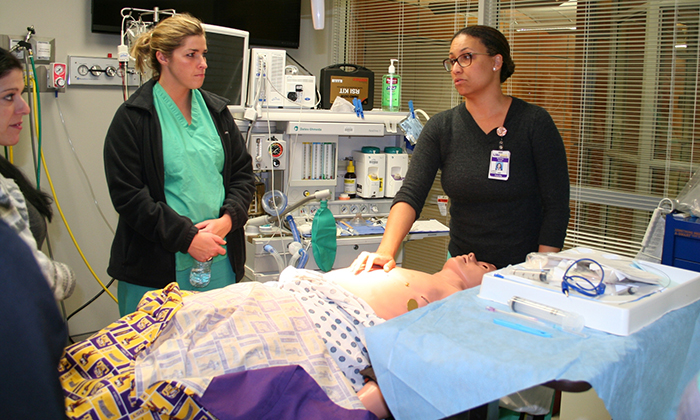 LSU Health New Orleans' School of Nursing is recognizing the critical role nurse practitioners play in improving access to high-quality, cost-effective care during Nurse Practitioner Week, celebrated this year November 12-18.
Nurse practitioners are advanced practice nurses who provide a full range of primary, acute and specialty health care services. They order, perform and interpret diagnostic tests such as lab work and x-rays, diagnose and treat acute and chronic conditions such as diabetes, high blood pressure, infections and injuries; manage patients' overall care, counsel and educate patients on disease prevention and positive health and lifestyle choices. Nurse practitioners must complete a master's or doctoral degree program and have advanced clinical training.
The Nurse Practitioner Program at LSU Health New Orleans is the only one within a Health Sciences Center in Louisiana. Its
Doctor of Nursing Practice (DNP) degree program
offers seven NP population-focused concentrations and three elective Advanced Practice Nursing Advanced Specialties.
There are more than 5,500 NPs in Louisiana. Forty percent of Louisiana's citizens are covered by Medicaid, and 80% of NPs accept Medicaid.
"Louisiana's NPs decrease patient wait times to be seen by a primary care provider, specialist or psychiatric provider in community-based or inpatient settings," notes Leanne H. Fowler, DNP, AGACNP-BC Director, Nurse Practitioner Program at LSU Health New Orleans School of Nursing. "They also decrease hospital readmissions for heart failure, diabetes, and cardiovascular-related conditions."
Adds LSU Health New Orleans School of Nursing Dean and Professor Demetrius Porche, DNS, PhD, ANEF, FACHE, FAANP, FAAN, "Nurse practitioners also increase preventative health counseling through telehealth and face-to-face visits and reduce hospital lengths of stay for acute and critically ill patients."
______________________________________________________________________________________________________________ LSU Health Sciences Center New Orleans (LSU Health New Orleans) educates Louisiana's health care professionals. The state's health sciences university leader, LSU Health New Orleans includes a School of Medicine with campuses in Baton Rouge and Lafayette, the state's only School of Dentistry, Louisiana's only public School of Public Health, and Schools of Allied Health Professions, Nursing, and Graduate Studies. LSU Health New Orleans faculty take care of patients in public and private hospitals and clinics throughout the region. In the vanguard of biosciences research, the LSU Health New Orleans research enterprise generates jobs and enormous annual economic impact. LSU Health New Orleans faculty have made lifesaving discoveries and continue to work to prevent, advance treatment or cure disease. To learn more, visit http://www.lsuhsc.edu, http://www.twitter.com/LSUHealthNO, or http://www.facebook.com/LSUHSC.