***COVID-19 INFORMATION***
****If you are a student who has been exposed to covid-19, a/o are ill or self-isolating, please
1. Call the Campus Clinic Hotline at (504) 412-1995 (Open M-F 8-4:30)
2. If after hours, please take two minutes to fill out the following survey:
http://bit.ly/Covid19StudentCaseReportForm
LSU Student Health Clinics
The Louisiana State University Student Health Clinic offers a variety of health services. Physicians in the Student Health Clinic are board certified. For more information on student health insurance, please see http://www.lsuhsc.edu/orgs/studenthealth/insurance.
BlueCross BlueShield Insurance (See bcbsla.com)
LSUHSC-New Orleans is again offering our students the option of purchasing student health insurance through BlueCross BlueShield of Louisiana. If students have coverage through their own plans or as a dependent of someone else, they will continue to have to provide proof of this coverage.
Health Care Services
We provide primary health care, mental health assistance, immunizations, women's health exams, and exams for away rotations/residency.
Faculty who provide health or psychiatric care of students are not involved in the grading, evaluation, or promotion of students.
Immunization/Prevention (unless exempted for health/medical or religious reasons)
You will need to have an annual flu vaccine, annual TB screening and a tetanus shot every 10 years. Nurse only appointments may be scheduled for immunizations by calling (504) 412-1995 (campus health clinic) and (504) 412-1366 (St. Charles clinic). For additional information, see the Student Health Handbook.
Location and Hours
Student Health Services is located on the 3rd floor of the Seton Building
478 S. Johnson Street, Room 307, New Orleans, LA 70112
Hours are 8:00 a.m. to 4:30 p.m.
Monday - Friday
Phone: (504) 568-1800
Fax: 504-568-1799
Student Health Clinic Locations:
LSU Healthcare Network Clinics
478 S. Johnson Street, New Orleans, LA 70112
MD and nursing visits by appointment only. Call for same day appointments.
(504) 412-1995
Monday 1-3PM
Tuesday 9-11:30AM
Thursday 9-11:30AM (No TB skin test can be scheduled on this day)
Friday 1-3PM
3700 St. Charles Ave., 2nd Floor, New Orleans, LA 70115
All services (nursing and MD) are by appointment only and can be scheduled as follows:
Monday 8:30-11:30AM and 1:00PM-3:00PM
Wednesday 1:00PM-3:30PM
Friday 8:30AM-11:30AM
(504) 412-1366
COVID-19 Hotline Questions
(504) 412-1995 - 8:00 AM - 4:30 PM
After Hours Care
After 4:30 p.m. and on weekends and holidays, contact (504) 412-1366. For immediate treatment, you may go to the emergency room.
How to Access Your Student Health Record
1. Go to the lsuhsc.edu website and click on myLSUHSC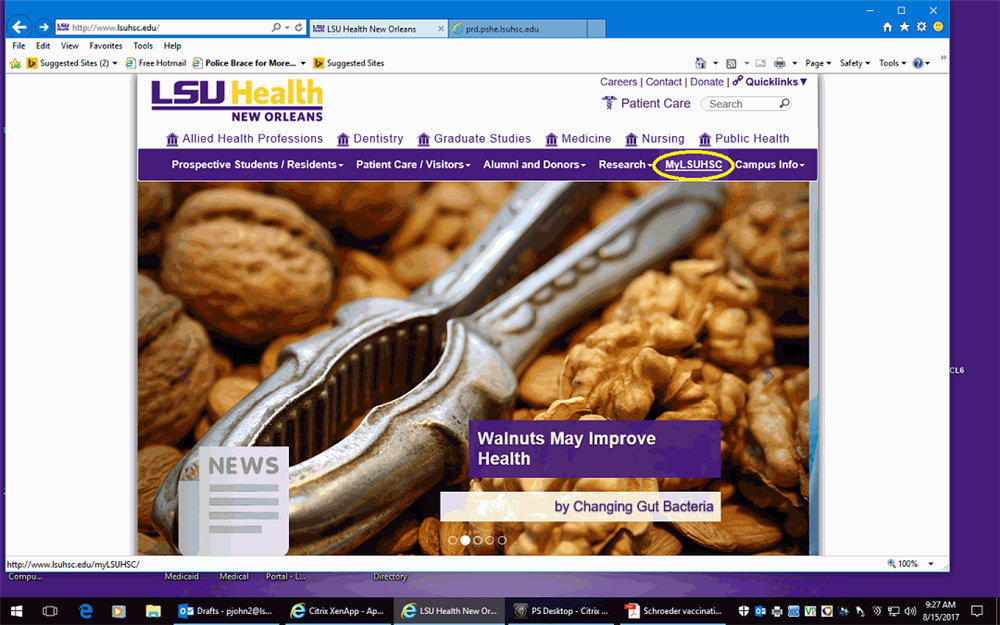 2. Click on Self Service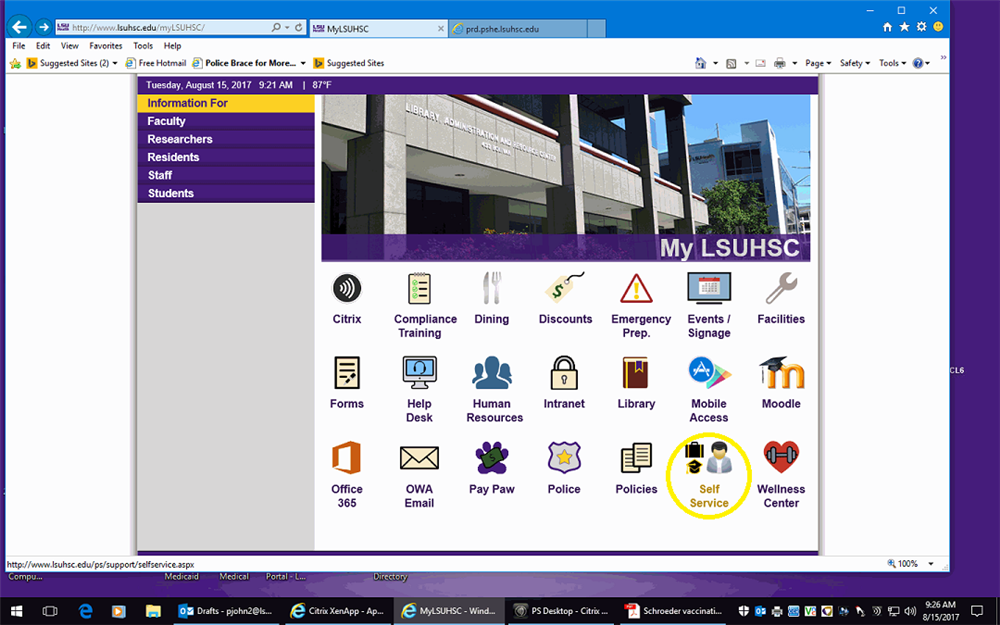 3. Click on Academic Self-Service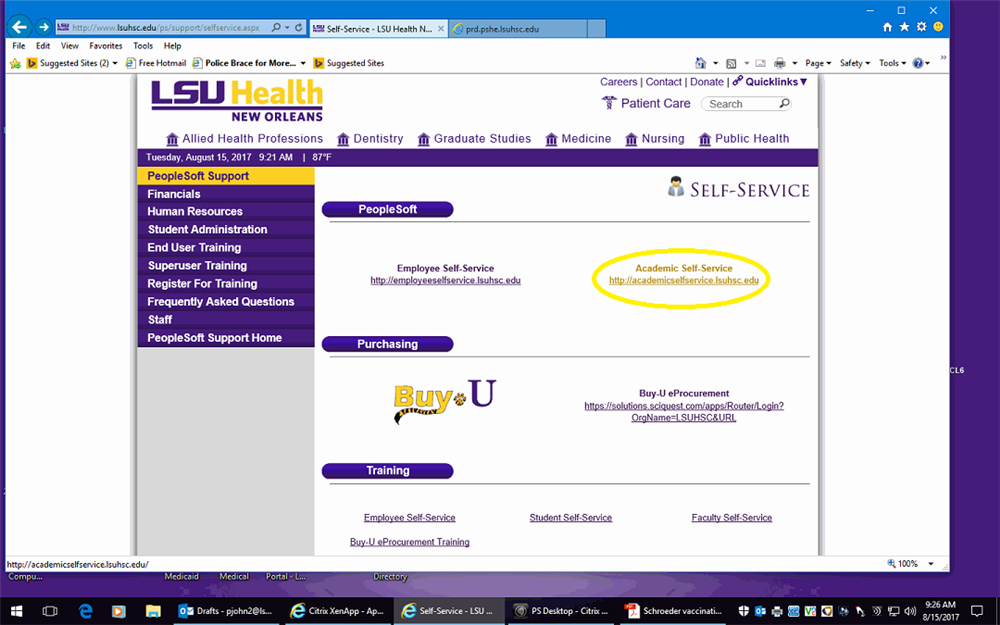 4. Input your lsuhsc username and password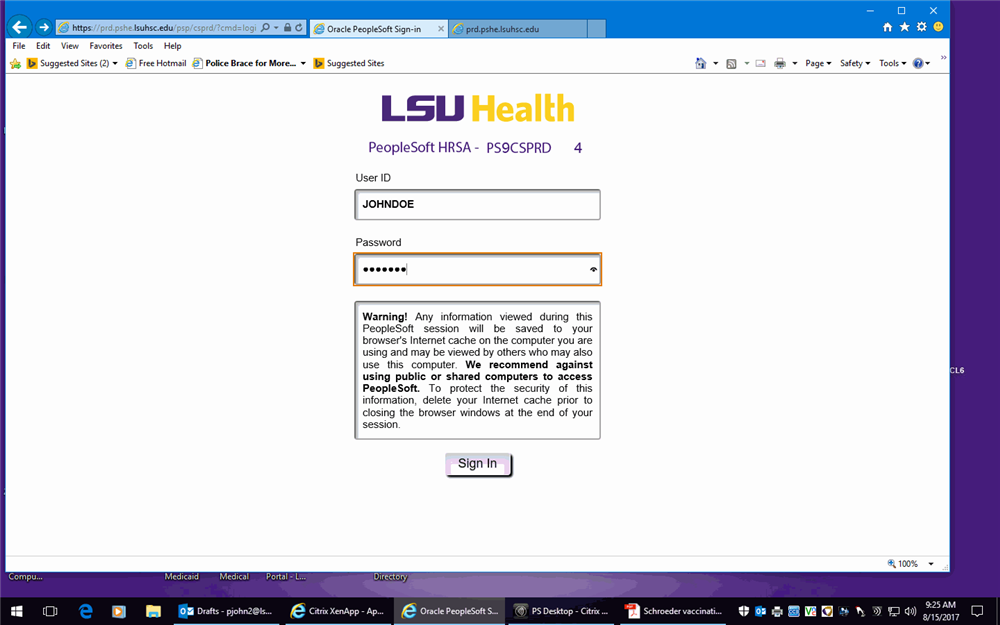 5. Go to Main Menu-->Self-Service-->Student Center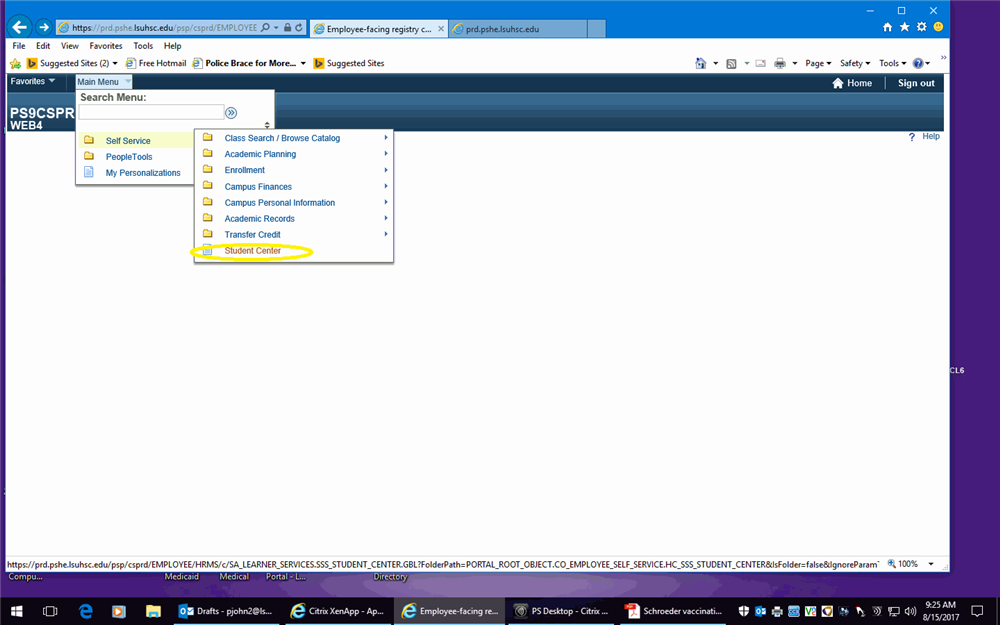 6. Scroll down and click on "health record" in the lower left-hand corner