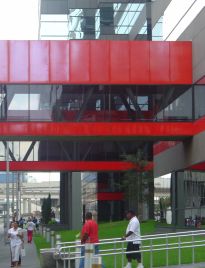 Phone: (504) 568-7716
                                 Fax: (504) 568-5575
Welcome
---
The Office of Property and Facilities Management, under the leadership of the Associate Vice Chancellor, is responsible for the planning and administration of all property and facility operations and maintenance for LSU Health Sciences Center - New Orleans. The office provides oversight of the planning of space and property, capital budgeting, construction management, and building management to include renovations, maintenance, and repair of University buildings and facilities; and the provision of utilities, grounds care, custodial, trash collection, recycling, and other services.
Mission:
By providing quality property and facilities maintenance, construction management, and services, this office is dedicated to offering our students, faculty, and staff a clean, reliable, and safe environment conducive to the Health Sciences Center's overall goal of providing quality education, research, patient care services and community outreach.
---
Administration
John Ball, Associate Vice Chancellor, at jball@lsuhsc.edu or 504-568-4500.
Rayza Carballo, Assistant Director of Administrative Affairs, at rcarba@lsuhsc.edu  or 504-568-4500.
Kenneth Sagnibene, Business Manager, at ksagni@lsuhsc.edu or 504-568-7716.
Environmental Health and Safety