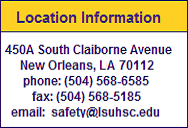 Welcome
Welcome to the Environmental Health and Safety Department website. The LSU Health Sciences Center is committed to providing a safe and healthy environment for all faculty, staff, students, and visitors; and conducting its mission in compliance with all applicable environmental health and safety laws and regulations. Our department supports that effort through safety assessments; assisting with the identification, evaluation and control of hazards; education; training and inspections.
For emergency situations, such as a chemical spill, contact the University Police at 568-8999; University Police will then contact us to respond. For hazardous waste pickup, use the Facility Services Work Request System. For routine matters, please contact our staff directly:

Darren Burkett, Executive Director, at dburk2@lsuhsc.edu or 504-568-2324.

Aaron Pourciau, Director, at apourc@lsuhsc.edu or 504-568-2851.

Samantha Lindsey, Chemical and Radiation Safety Officer, at slind8@lsuhsc.edu or 504-568-4952.

Kaitlin Didier, Laboratory and Biological Safety Officer, at kdidie@lsuhsc.edu or 504-717-1925.

Raychelle Williams, Driver Safety Program Administrator, at rwil32@lsuhsc.edu or 504-568-4500.