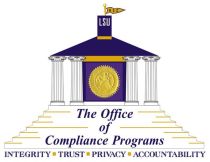 Office: (504) 568-8448
Hotline: (855) 561-4099
Fax: (504) 568-7399
Office of Compliance Programs
LSUHSC-NO's Office of Compliance Programs was established in March 2002 to provide consistency in compliance with Federal and State laws and regulations and University's Policies and Procedures across all the University's schools and administrative areas.
Compliance with such requirements is vital to the organization's operations to avoid administrative sanctions ranging from stringent program oversight to the suspension of Federal program funding and criminal /civil prosecution. Federal Sentencing Guidelines provide for the mitigation of penalties to organizations that have an effective program in place for detecting and preventing violations of law and regulations.
Our mission is to contribute to the institution's overall excellence by increasing faculty, staff and student awareness of, and compliance with, applicable statutory, regulatory and policy requirements. This is necessary to minimize the institution's exposure to fraud, waste, and liability, through education, reporting and monitoring.