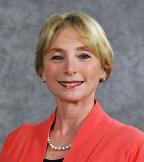 President Farrar
Ms. Farrar, associate professor in the Department of Comprehensive Dentistry and Biomaterials, Division of Administration, is director of clinical staff and patient services. Her previous leadership roles include president of the LSUSD Faculty Assembly and president of the Louisiana Dental Hygienists Association (LDHA). She is currently legislative chair for the LDHA. In 2010 she was the recipient of the LDHA Outstanding Dental Hygienist Award and she is a 2011 alumna of the ADEA Leadership Institute. Ms. Farrar has received three Golden Apples. She is an honorary member of Omicron Kappa Upsilon (OKU), the National Dental Honor Society.
Monthly Agendas
Faculty Senate Agendas are set only a few days before each meeting, so that they will be as up-to-date as possible. For further information or get an item on the agenda contact the FS Secretary.
Agenda  May 2016 (pdf)
If a Senator is unable to attend a meeting, a proxy should be designated. Please fill out the proxy form and submit to the Senate Secretary. Please refer to the Bylaws for complete rules (Article 1, Section 4, Line 160).
---
This page is maintained by the Faculty Senate, to whom all comments should be addressed.
The statements and opinions included in the LSUHSC Faculty Senate home page are those of the Faculty Senate only.
Any statements and/or opinions included in these pages are not those of Louisiana State University Health Sciences Center or the LSU Board of Supervisors.
Last updated: May 2016
Updated by FS Webmaster