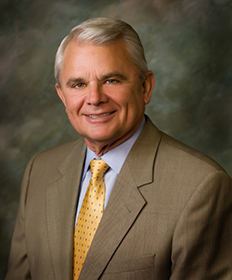 Larry H. Hollier, MD, FACS, FACC, FRCS (Eng.)
Chancellor of LSU Health Sciences Center New Orleans
Appointed Chancellor on February 3, 2006

Appointed Acting Chancellor November 14, 2005

Appointed Dean of the School of Medicine on January 1, 2004

Dr. Larry H. Hollier has served as Chancellor of LSU Health Sciences Center New Orleans since November 14, 2005. Comprising six health professions schools, LSU Health Sciences Center New Orleans educates Louisiana's health workforce, research scientists, and public health policymakers. Dr. Hollier is also a practicing vascular surgeon.
Dr. Hollier was President and Chief Operating Officer of The Mount Sinai Hospital in New York before being recruited to lead his alma mater, the School of Medicine at LSU Health Sciences Center New Orleans, where he earned his medical degree in 1968 and was named Chief Resident in Surgery in 1974. Following a brief stint in the U.S. Air Force, Dr. Hollier entered academic medicine with an appointment to the LSUHSC faculty in 1975.
Dr. Hollier was appointed Dean on January 1, 2004. During his first 18 months, he reorganized the Dean's office and redefined fiscal control of the School of Medicine. He implemented mission based budgeting, aligning pay with performance, and allowing reallocation of an additional $7 million to support the basic science and translational research efforts. As a result of the increased growth of research, the school's NIH funding increased over 50%. Dr. Hollier continued to serve as both Chancellor and Dean of Medicine until September 2007 when he appointed Dr. Steve Nelson as Dean of Medicine.
The day after the levees broke flooding 80% of New Orleans after Hurricane Katrina, Dr. Hollier led the efforts to temporarily relocate the Health Sciences Center to Baton Rouge. This involved identifying classroom space, new clinical rotation sites, the provision of housing for hundreds of displaced students and faculty by arranging for trailers and a Baltic Ferry to be made available for them in Baton Rouge. More than 400 residents and 300 students were reassigned to undamaged facilities and were back working within less than 4 weeks. Classes resumed in Baton Rouge four weeks after the storm, with high attendance by the students. Dr. Hollier managed a $180 million overall loss for the Health Sciences Center, rebuilding the clinical enterprise, developing new partnerships, and negotiating a $50 million commitment from state leadership to ensure the survival of the Health Sciences Center. He also oversaw the repair and renovation of the Health Sciences Center campus and led the move back to New Orleans.
In 1980 Dr. Hollier joined the faculty and staff at the Mayo Clinic in Rochester, Minnesota where he developed the hospital's vascular surgery service and training program. In 1987, he was named Chairman of the Department of Surgery at Ochsner Clinic Foundation and served as a member of the Board of Management for Ochsner's 750-member, multi-specialty group practice. Dr. Hollier was also active in expanding surgical activities in oncology, vascular surgery, cosmetic surgery, and transplantation.
In the mid-1990s, Dr. Hollier served as the Chair of Surgery and Executive Director of Clinical Affairs at the former Health Care International Medical Centre near Glasgow, Scotland, a tertiary care hospital specializing in cardiac surgery, cardiology, bone marrow transplantation, orthopedics and ophthalmic surgery, an operation he was recruited by Harvard to build.
Becoming one of the first of a new breed of physician-CEOs among hospitals nationally, Dr. Hollier was named President of the 1000+ bed Mount Sinai Hospital in August 2002. Rising from Chairman of Surgery to the center's chief medical officer (Senior VP and Dean of Clinical Affairs), and then to the #1 position, he set out to prove that a physician can successfully run a large teaching hospital. Despite the conventional wisdom that physicians make poor businessmen, Dr. Hollier took on the challenge of dealing with a multi-million dollar deficit at The Mount Sinai Hospital in New York initiating a turnaround of over $150 million and remaking it as more of a physician-led institution.
Dr. Hollier is certified by the American Board of Surgery in General Surgery and in General Vascular Surgery. He is a Fellow of the American College of Surgeons, the American College of Cardiology, the Royal College of Surgeons of England, and the Royal College of Physicians and Surgeons of Glasgow, Scotland.
In addition to being a lecturer on vascular and endovascular surgery, Dr. Hollier is the author of more than 300 journal articles and has served on the editorial boards of 13 surgical journals.