Campus Health, Wellness, Safety & Academic Resources
Welcome to the Campus Health website. The LSU Health Sciences Center New Orleans (LSUHSC-NO) Campus Health Program is committed to providing a quality academic and work environment for the entire LSUHSC-NO community. We have developed numerous health, wellness, safety and academic resources to assist the LSU Health Sciences Center New Orleans' faculty, residents, staff, and students.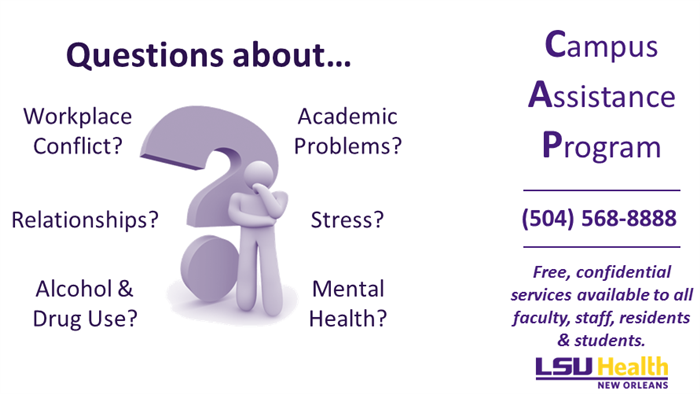 The LSUHSC Campus Assistance Program (CAP) offers a 24-hour crisis line, community information, brief short-term counseling and referral services.
Information regarding Drug-Free Workplace Policy, Substance Abuse Policy, Drug Prevention Program and Policy, as well as instructions on when and how to utilize LSUHSC-NO Drug Testing services.
CAP statement and resources related to diversity, equity and inclusion.
Information regarding numerous health, wellness and safety resources identified in the community to assist individuals in obtaining help for various problems.
Information regarding various resources to assist faculty, staff and employees in resolving work-related and personal problems.
Information regarding various resources to assist residents and students in achieving their goal of academic excellence.
Information regarding the Peer Advocate Liaision (PAL) program, which allows students to provide assistance to their classmates who are seeking resources or guidance.
Information regarding the LSUHSC-NO policies & procedures regarding campus violence, as well as resources available to assist victims of sexual violence.
Campus Health offers Alcohol Server's Training to faculty, staff, residents and students in accordance with the Guidelines for Responsible Use of Alcohol at LSU Health Sciences Center.
Includes brochures, handouts, video presentations, self-screening instruments, and links to helpful websites.
Find all Campus Health forms here.
---
If you have questions or comments about our website, click here to contact us. We appreciate your feedback.