Would you like to participate in the 21-DAY CHALLENGE?
Print this form for instructions: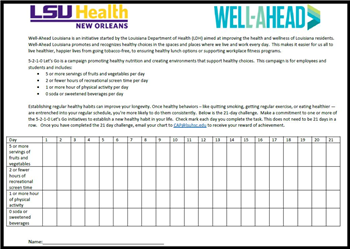 Well-Ahead Louisiana is an initiative started by the Louisiana Department of Health (LDH) aimed at improving the health and wellness of Louisiana residents. Well-Ahead Louisiana promotes and recognizes healthy choices in the spaces and places where we live and work every day.  This makes it easier for us all to live healthier, happier lives from going tobacco-free, to ensuring healthy lunch options or to supporting workplace fitness programs.
By becoming a designated WellSpot, we're joining organizations throughout the state who are putting the health and wellness of Louisiana residents first.  We're showing our employees, students, patients, patrons and others that they can live well by making small choices.  Healthier employees are happier, they miss less work, they are more productive, and their healthcare costs go down.  Healthier students are better learners, and healthier hospital and healthcare facility environments can improve patient outcomes. If we work together to make smart, healthy changes in our workplaces, we could reduce future economic health costs by more than $17 billion by 2023!
Certified Wellspots focus on promoting and empowering staff and students to begin thinking about their own health and wellness by meeting the following benchmarks:
Be a smoke-free and tobacco-free location and promote the Louisiana Tobacco Quitline 1-800-QUIT-NOW.
Incorporate breastfeeding friendly policies
Promote a worksite wellness program
Provide consistent health messaging and education for patients and employees
Promotion of the 5-2-1-0 Let's Go program. Promoting healthy workplace nutrition for employees and patients which includes:

5 or more servings of fruits and vegetables per day
2 or fewer hours of recreational screen per day
1 or more hour of physical activity per day
0 soda or sweetened beverages per day

Promotion of preventative education including pre-diabetes and heart health awareness
Adoption of a healthy nutrition policy during workplace meetings and events
Although, LSUHSC - New Orleans has incorporated many of these benchmarks, our goal is to become a Level 1 Wellspot.  The resources avaiable to our faculty, staff and students are listed below:   
Resources:
LSUHSC Campus Assistance Program     
LSU First - Nutritional Information Through SparkPeople 
BCBS Blue 365 Nutritional Information
Designated lactation rooms include: Lions Building 332, Allied Health Building 411B and 449B, Dental School- 6341 Clinical Building, and the Human Development Center 237
Pre-Diabetes and Heart Health Assessment Tools
According to the Centers for Disease Control and Prevention, about 75 million Americans have high blood pressure and more than 29 million Americans have diabetes. One of the first steps towards living a healthier lifestyle is to utilize a self-assessment tool that allow you to better understand your health and feel more comfortable discussing your risk for certain conditions with healthcare providers. 
Below you can find self-assessments for pre-diabetes and heart health:
Pre-Diabetes:
Heart Health: