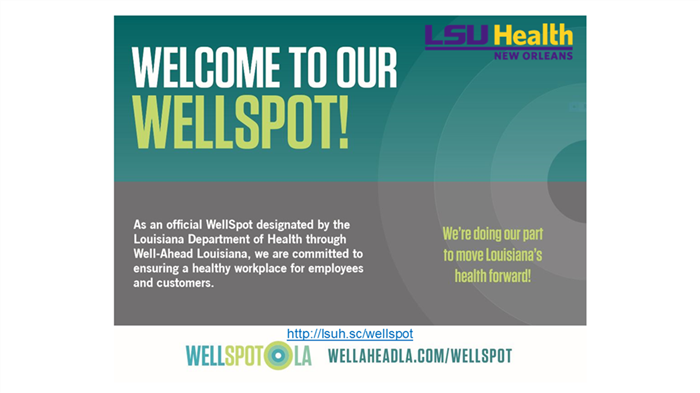 We have exciting news to share about LSUHSC-New Orleans. The LSUHSC Wellness Committee and the Campus Assistance Program are proud to announce that we have officially been designated a Level 1 WellSpot by the Louisiana Department of Health through Well-Ahead Louisiana! This designation shows our commitment to ensuring you have the opportunity to work in a healthy workplace. Being a WellSpot is important to us because we are passionate about the health of our state and doing our part to move Louisiana's health forward!
As part of LSUHSC-New Orleans family, we care deeply about your health and well-being. You spend a good portion of your time here lending us your talent and experience, so we are happy to provide you with a healthy work environment! We also know that healthy employees lead to happy employees, which means you'll continue to deliver the high-quality education, service and care for our students, employees, patients, and the New Orleans community that they are counting on.
LSUHSC-New Orleans has a responsibility to step up and lead the way toward a healthier Louisiana. Louisiana often lags behind the rest of the nation in health rankings and outcomes. Too often our Louisiana family members and friends suffer from health complications due to tobacco use and chronic illnesses such as obesity, diabetes and heart disease. While we are proud of our unique culture and way of life, our lifestyle choices often lead to serious health challenges. It doesn't have to be this way! We all have an important role to play in turning this around, including our team here at LSUHSC-New Orleans.
So, what exactly does this mean for you?
To earn our WellSpot designation, we have implemented several policies designed to improve the health of our workplace. These policies include:
Tobacco Free Policy: This policy prohibits the use of all forms of tobacco products and electronic vaping devises on LSUHSC-New Orleans property, including parking lots and company vehicles. To learn more about our Tobacco Use Policy (CM-58) click here.
Tobacco Cessation Programs through LSUHSC-New Orleans and within Employee Health Plans: We encourage you to quit using tobacco. Research has shown that most tobacco-users benefit from using counseling, medications and social support to help quit. By including cessation programs in our health plan, you have the tools and support you need to begin your quit journey. For more information you can call 1-866-457-QUIT (7848) or (504) 702-5178.
Lactation Friendly Workplace: We support our LSUHSC-New Orleans mothers! We provide breastfeeding employees with time and a space to express milk. For a list of designated lactation spaces click here.
Worksite Wellness Program: Take control of your health! Get started by taking advantage of our worksite wellness program.
LSUHSC Campus Health Clinic: 478 S. Johnson Street, New Orleans, LA. 70112 (504) 412-1995
Healthy Vending Machine Snack Choices: We're adding healthy options to the vending machines to help you snack smarter!
Healthy Meeting options: In addition to healthier snack options, we encourage walking meetings and other innovative ways to get out of our seats and moving throughout the day!
As always, thank you for your ongoing commitment to LSUHSC-New Orleans. Our team is only as successful as each individual member is, so let's do our part to make healthy choices and lead the way toward a healthier Louisiana and future!
Well-Ahead Louisiana
Well-Ahead Louisiana is an initiative started by the Louisiana Department of Health (LDH) aimed at improving the health and wellness of Louisiana residents. Well-Ahead Louisiana promotes and recognizes healthy choices in the spaces and places where we live and work every day. This makes it easier for us all to live healthier, happier lives from going tobacco-free, to ensuring healthy lunch options or to supporting workplace fitness programs.
By becoming a designated WellSpot, we're joining organizations throughout the state who are putting the health and wellness of Louisiana residents first. We're showing our employees, students, patients, patrons and others that they can live well by making small choices. Healthier employees are happier, they miss less work, they are more productive, and their healthcare costs go down. Healthier students are better learners, and healthier hospital and healthcare facility environments can improve patient outcomes. If we work together to make smart, healthy changes in our workplaces, we could reduce future economic health costs by more than $17 billion by 2023!
Certified Wellspots focus on promoting and empowering staff and students to begin thinking about their own health and wellness by meeting the following benchmarks:
Be a smoke-free and tobacco-free location and promote the Louisiana Tobacco Quitline 1-800-QUIT-NOW.
Incorporate breastfeeding friendly policies
Promote a worksite wellness program
Provide consistent health messaging and education for patients and employees
Promotion of the 5-2-1-0 Let's Go program. Promoting healthy workplace nutrition for employees and patients which includes:

5 or more servings of fruits and vegetables per day
2 or fewer hours of recreational screen per day
1 or more hour of physical activity per day
0 soda or sweetened beverages per day

Promotion of preventative education including pre-diabetes and heart health awareness
Adoption of a healthy nutrition policy during workplace meetings and events
Resources:
LSUHSC Campus Assistance Program
LSU First - Nutritional Information Through SparkPeople
BCBS Blue 365 Nutritional Information
Pre-Diabetes and Heart Health Assessment Tools
According to the Centers for Disease Control and Prevention, about 75 million Americans have high blood pressure and more than 29 million Americans have diabetes. One of the first steps towards living a healthier lifestyle is to utilize a self-assessment tool that allow you to better understand your health and feel more comfortable discussing your risk for certain conditions with healthcare providers.
Below you can find self-assessments for pre-diabetes and heart health:
Pre-Diabetes:
Heart Health:
Wellness Inventory for Students and Employees (WISE)