Drug Testing Program
The mission of the LSUHSC-NO Drug Testing Program serves to safeguard the workplace/school environment from the consequences of alcohol and drug use in order to provide a safe, productive, and healthy environment that is consistent with providing the highest quality service to patients and the most effective learning and work environment for the LSUHSC-NO community.
Louisiana State University Health Sciences Center - New Orleans is committed to providing a drug-free workplace and workforce pursuant to the provisions of the Federal Drug Free Workplace Act of 1988.
Click here for a list of substance abuse and addiction resources.
The unauthorized use of, possession of, or being under the influence of alcohol and the illegal use, abuse, possession, manufacture, dispensation, distribution of, or being under the influence of controlled or illegal drugs is prohibited while at work, on call, on duty, at school, or engaged in Louisiana State University Health Sciences Center New Orleans (LSUHSC-NO) business on or off LSUHSC-NO premises. (CM-38 - Substance Abuse and Drug Free Workplace Policy)
LSUHSC New Orleans Campus Drug Prevention Program and Policy applies to all faculty, staff, residents, students, and contractual employees of LSUHSC-NO. All individuals whether paid, unpaid, or gratis must understand that initial employment/enrollment and continued employment/enrollment is contingent upon a willingness to comply with this policy. For additional information on the Drug Prevention Program and Policy, click here.
Training
Click below to view the training: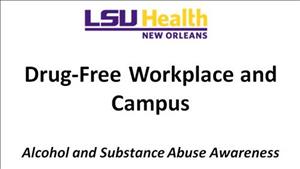 Location and Contact Information
Human Development Center
411 S. Prieur St., Suite 233
New Orleans, LA 70112
Phone: (504) 568-8888
Email: drugtesting@lsuhsc.edu
Laboratory Testing
The types of urine drug tests conducted are Post Job Offer, Reasonable Suspicion/Cause, Periodic Monitoring/Aftercare, Post-Accident, and Random.
Confidentiality
All client information and records are held strictly confidential and are shared only with individuals authorized by our clients.
Drug Testing Forms and Instructions
DER Drug Test Training and Instructions
Order Post Job Offer Drug Testing - Premier Biotech / i3screen
If you have questions or comments about our website, click here to contact us. We appreciate your feedback.