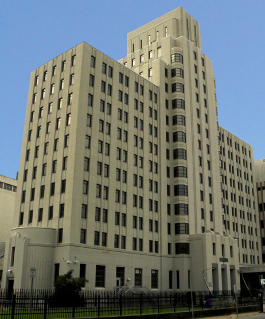 Stanislaus Hall
Stanislaus Hall has 154 single occupancy dorm suites on 6 floors. Each suite is furnished with a single bed, wardrobe, entertainment center, computer desk and desk chair. All dorm suites have network connectivity. Common features on each floor are kitchens, laundry rooms and study lounges also with internet connections. Located at 450A South Claiborne, Stanislaus Hall has a parking garage adjacent to the building. An elevated walkway connects Stanislaus Hall to all campus buildings for easy and quick access to classrooms, labs, library and cafeteria.
A modern, state of the art Wellness Center, which includes weight lifting and cardio rooms, is situated on two floors of Stanislaus Hall and staffed with dedicated professionals. The Wellness Center is free to all students. Group exercise and aerobics classes are offered in addition to saunas.
The dorm suites are furnished with a twinXL bed, a desk, desk chair, dresser, closet, entertainment center, and window blinds. You will assume responsibility for these items and they will be yours for the length of your stay.
You will need to provide the following items:
extra long twin-size sheets
refrigerator
microwave
dishes
television
towels
shower curtain with rings
trash container
cleaning supplies
STORAGE SPACE IS NOT AVAILABLE. STUDENTS ARE EXPECTED TO KEEP ALL PERSONAL ITEMS WITHIN THE CONFINES OF THEIR DORM SUITE.
The following items are NOT PERMITTED in any residence hall apartment, dorm room, kitchen or common area.
pets of any kind
candles
halogen lights
firearms
items that hang from the ceiling
hot plates
incense
electrical space heaters
toaster ovens
Any other items stated in the LSUHSC-NO Residence Hall Policy and Procedure Manual, RHP 9.
Typical Floorplan: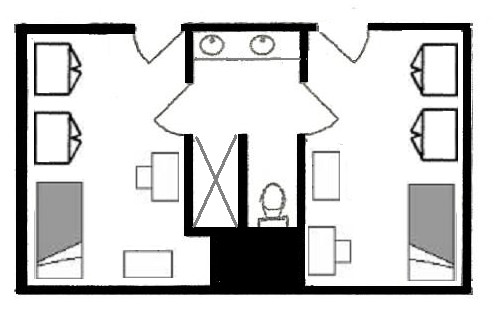 Photographs of the interior of this facility.