You can drag files directly from your computer desktop or an application window into your course.
Dragging and Dropping a file
Upload within an Activity

Drag files from your computer and release then on top of the blue arrow  in the additional files area.

The files will appear in the Select files area and become part of the course activity
Upload into a Section

Locate the Topic or Weekly Section where a file will be added.
New resources are added to the botton of Sections
Single, multiple and archive files can be dragged onto the section

Adding a file resource                                                
On the course homepage > click Turn Editing on
In the section where you want the assignment to appear > click Add an activity or resource
Click the radio button beside Forum
Click Add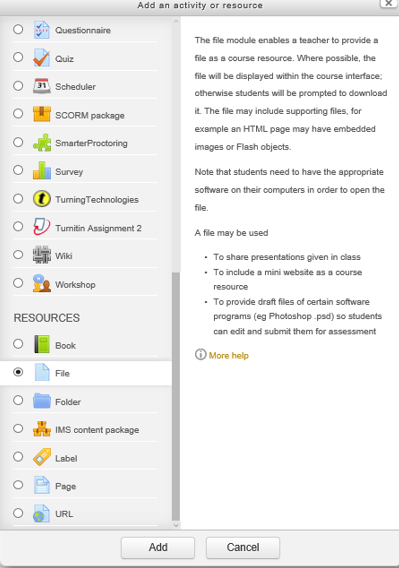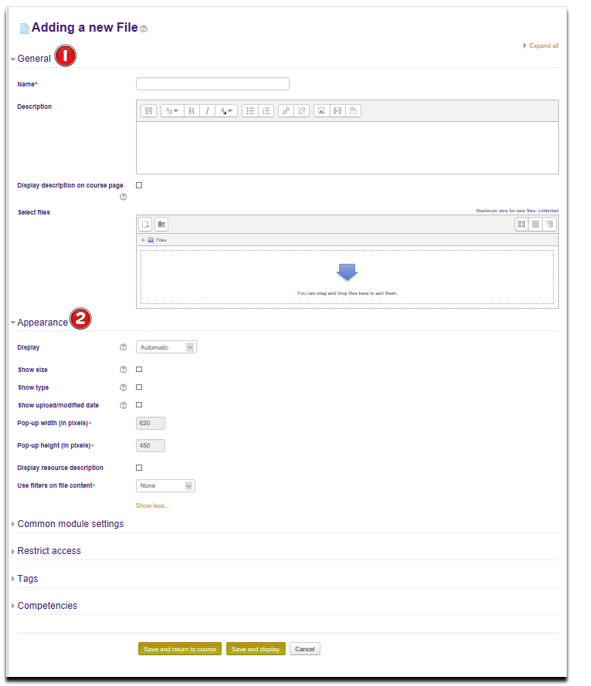 1. General Section:
Enter a title for the file in the Name field, which will appear as a link on the course page

An optional description can be added and appear on the course page if needed
      2. Appearance Section:
Select the appropriate option from the Display drop-down list to see how the file is displayed to students.

Automatic: Moodle will determine the best display based on the file type.
Embed: The file will be embedded in the resource's page with the Navigation and Administration block.
Force download: The file is downloaded to the students' hard drives. Depending on individual browser settings, students may be prompted for a location to save the file.
Open: The file will occupy the entire browser window. No browser menu, heading, footer or description will display.
In pop-up: The file display in a new full browser window with menus and an address bar.
Checking Show size will display the size of the uploaded file on the course page
To show the type of file next to the file link then enable Show type
To show the date file was uploaded enable Show upload/modified date
Pop-up width/height would be enabled when choosing to display in pop-up